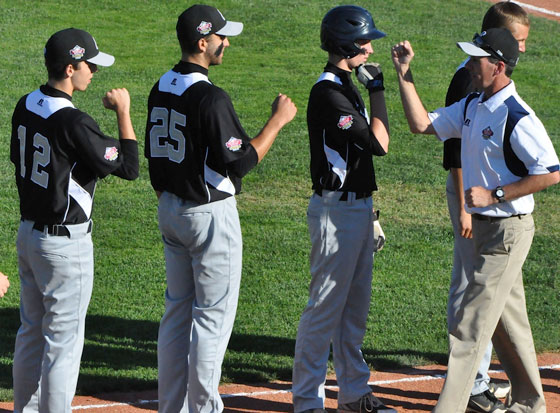 When any five- or six-year old boy (or girl) picks up a baseball bat and glove for the first time, he (or she) more than likely has one goal and imagines one dream: win the Little League World Series.
For the KAU Kings 16U baseball team, the goal of winning a World Series and fulfilling that dream is only four victories away. But their World Series won't be the one in Williamsport, Pa. The squad that used to be known as the Kennett Kings is now referred to as the Little League Senior Division Eastern Regional Champions and they're playing in the Senior Division World Series in Bangor, Maine. The team of Kennett and Unionville high schools' students now can claim to be one of the best ten 16-year-old teams from across the world. And that's out of 72,000 senior division teams worldwide!
The Eastern Champs/Kennett Kings began as District 28 champions, then followed with the Section 28 title and the Pennsylvania State championship before earning their trip to the World Series by capturing the Eastern Regional crown in West Deptford, New Jersey.  The team lost only one game along the way…although it survived several scares in the Regionals.  They were down to their last out against New York in the opening game of the tournament before scoring five runs to win and they came from behind over their other three opponents to capture the Regional crown.
"We've rallied this whole way, all the way from sectionals," said Manager Todd Duerr, who has led the all-star team for nearly seven years. "I thought these boys—many of whom have played together since they were seven or eight years old--might be a special group, but never in my wildest dreams did I believe we'd be going to the World Series. What coach would?"
The 17 players and coaches gathered their equipment and packed their luggage and electronics for last Friday morning's 7 a.m. bus ride to Maine. Driving through what Duerr called an "epic rain," the Eastern champs arrived in Bangor 12 hours later. Coach Mike Pechin said that after being fitted head to toe for their new black, grey and white uniforms with a cursive East on the chest and a corresponding E on cap, " they were like wide-eyed kids in a candy store. If they were peacocks, they'd be strutting with their tail feathers wide open. There is just so much emotion. We couldn't play a game when we arrived. The team wouldn't be able to concentrate."
Or in the words of KAU President John Tucker, whose son Chris is a member of the team, "No one knows who KAU is anymore. When you say you're from Kennett, you have to change that to East, he said. "Changing colors from light and dark blue to black, white and grey and our name from Kings to East takes some getting used to. "
The opening ceremonies at Mansfield Stadium (which does have a large hill in centerfield just like Lamade Field in Williamsport) mirrored a "mini-Olympics," complete with a parade of teams and the playing of national anthems. But the ceremony began what has become a true cultural experience for Kennett's 16-year-olds.
Because all the teams are staying in the same hotel together, Pechin said, "Players are asking one another basic questions about weather in countries they represent, what the school year is, about where they play baseball. Most of the teams speak English--some of them broken English but well enough to understand. Philippines and Panama teams have translators.  Our boys are learning about the beliefs, cultures and ways of life of the other teams. I think they are getting a good dose of reality about how good they have it where they live. I definitely see that this is a humbling and gratifying experience for them to understand just how lucky they are."  In fact one of the World Series traditions is pin-trading before each game.  The Eastern 16s will present their opponents with "Mushroom Capital of the World" pins donated by Bove Jewelers in Kennett Square.
While cultivating friendships, the Eastern champs first priority was their games. In the first World Series game against the Southwest Champion from Laredo, Teas, on Sunday the boys from Kennett Square stopped a Texas rally to record a 4-2 win. Andrew Jones pitched a complete game, crediting his defense for its work behind him. Against the Africa and Europe Region representative from Italy on Monday, the Eastern squad had no need for a rally, scoring nine runs and batting around three times in the first three innings during a game that lasted only 1 hour and 45 minutes.  Starting pitcher Alex Pechin and reliever Ryan Barrett combined on a two-hitter, facing only two batters over the minimum for a five-inning game. Barrett gave up Italy's lone run in the top of the fifth inning.
"We want to make sure we get an out on every play and cut down on a big inning for any team," Coach Mike Pechin said. "There's always someone different who makes a play that reinvigorates the team. In our game against Texas, the middle and the bottom of our batting order came through; against Italy, it was the top of the lineup.  We are just hitting the seams off the ball.
Leadoff hitter Drew Jarmuz continues to drive the East's lineup from the top. Over two games, he's batted 5-for-9 (including a perfect 4-for-4 against Italy) and scored four runs. Jones is batting 4-7 and has driven in four runs over two games. Eric Duerr leads the team with five RBI.
The coaches were concerned about the 10 a.m. start time for Monday's game against Italy.  "We thought the team might be lethargic, and they were quiet when they got to the field. We were concerned. But their attitude turned out to be the quiet confidence we've been preaching to them about since we began districts. " And in a true example of cultural irony, after Monday's 11-1 defeat of Italy, Manager Todd Duerr received his own anthropology lesson as he ate lunch with the Italian coaches.
The Eastern champs had the luxury of more than a full day off before their game against the U.S. Central champion from Clear Ridge Little League in Chicago, Tuesday at 5 p.m.  Coach Pechin said the team will have time to spend with their families. Nearly three-quarters of the team already has family—including six sets of grandparents--in Bangor, with more expected to arrive depending on how deep the team goes in to the tournament. Pechin also pointed out that the young men have been eyeing up a water park behind leftfield and are expected to spend some time there, but not one has mentioned venturing over to author Stephen King's home behind a grove of trees in right field. King, who provided funding for Mansfield Stadium, has been known to stop by on occasion to watch a game.
"The players do have a curfew, and Todd [Duerr] and I do the bed check," Mike Pechin said. "We know they're in their rooms, but who knows what time they really fall asleep? We've been here a few days, and the excitement still hasn't worn off."
Photo: Manager Todd Duerr congratulating Eric Duerr, Joe Zirolli and Tucker Reese
Submitted by Chadds Ford Township resident Mary Walter

See Contributors Page https://chaddsfordlive.com/writers/
Comments
comments