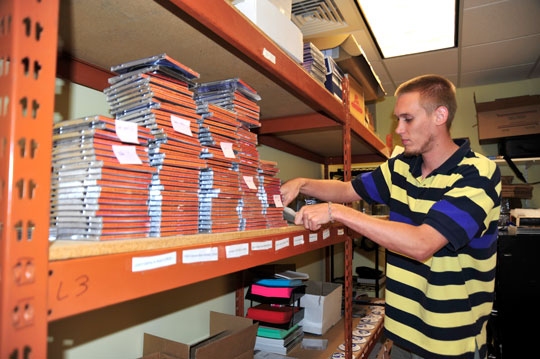 Bergwall Productions doesn't produce blockbuster television programs and it's not a household name. Indeed, it's likely that virtually no one living in the greater Chadds Ford area has ever heard of it.
But it might be just the right source for anyone who wants to learn some carpentry, fix up the house or build a new shed. Bergwall, in Chadds Ford Township, has been producing instructional videos for more than 40 years and is now looking to go beyond the classroom and into the do-it-yourself market with a new on-demand service.
According to Travis Bergwall, a third-generation member of the family business and a vice president, the company has been involved with the educational market since 1970, producing professionally scripted film and video for trade schools.
Bergwall On Demand is an on-line video library and access to the instructional videos comes at a price. Fees are $4.99 a one month subscription or $49.99 for a year. Currently there are videos on automotive care, carpentry, basic electricity, residential wiring and masonry.
Bergwall said more could be added over time.
"This is all new to us," Bergwall said from his office on Christy Drive. "We're jumping into the general public where most people have Internet access… It's all HD video."
The current courses were original produced for technical schools and unions for $500 per DVD, he said, but they've been edited into smaller segments for people who simply want to learn more about the subject. The instructions are still based on the classroom principles.
"The scripts were written by professionals within the various fields and reviewed by teachers. They have a professional feel. All the term, all the activities you do are from professionals."
Bergwall said the professional level of video production, writing and instruction are what sets the company's product well above free videos that can be found on other Internet sites.
Charles Bergwall, Travis's grandfather, started the company in 1970 using filmstrips.
"He was the first person to do this, teaching people to use machines. He wrote a script, took pictures and put them on film and sold it to schools," Travis Bergwall said.  "He branched in other markets and people loved it. They needed it for their classrooms."
Moving into the home market is based on economics, he said. The educational market slows down in the summer.
In addition to Bergwall On Demand, there is also a You Tube channel where they will post a question of the week, then answer the question in the video clip.
Bergwall added that his grandfather, now in his 80s and still working, wants to add a feature just for senior citizens who want to stay aware of how to do things.
"In the future we are going to add different videos and subjects. We are going to expand," he said.
(Photo: Travis Bergwall, vice president of Bergwall Productions, organizes DVDs in the company's Chadds Ford headquarters. The company produces videos for the trades and is now making them available online for the do to yourself market.)

Rich Schwartzman has been reporting on events in the greater Chadds Ford area since September 2001 when he became the founding editor of The Chadds Ford Post. In April 2009 he became managing editor of ChaddsFordLive. He is also an award-winning photographer.
Comments
comments