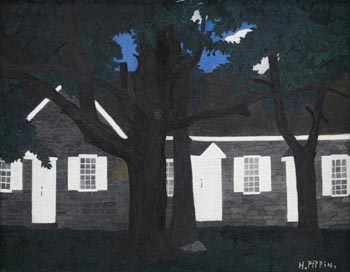 Painting of Birmingham Meeting House by Pippin, a native of West Chester,
on view in the Museum's first floor gallery




Chadds Ford, PA December 21, 2011--The Brandywine River Museum recently purchased a major painting by Horace Pippin, the West Chester, Pennsylvania artist of national importance and recognition. Entitled Birmingham Meeting House III, the painting depicts an 18th century Quaker building that still stands four miles south of West Chester. The painting is on view in the Museum's first floor gallery.


Horace Pippin is one of America's most important 20th-century untutored artists. A self-taught painter, Pippin was severely wounded in his right arm during World War I and turned to painting in the late 1920s. He demonstrated enormous talent for rendering bold and engaging compositions that express keen observation and feeling for his community and personal experiences. His work drew the attention of artist N.C. Wyeth and others. Wyeth promoted the organization of the first exhibition of Pippin's work in 1937 at the Chester County Art Association. The following year, Pippin's paintings were exhibited at the Museum of Modern Art, and his work was purchased by many collectors, including Albert Barnes, founder of The Barnes Foundation.

Birmingham Meeting House IIIis one of four works the artist painted between 1940 and 1942 depicting the historic building, which served as a shelter and temporary hospital for both George Washington's and British General Howe's forces during the Battle of Brandywine in 1777.

Pippin's painting accurately describes the building's façade and park-like setting. His emphasis on the main components of the meeting house structure and the forms of trees creates a balanced and strong graphic image. The attention to textures of quarried stone, tree bark and dark leaves gives additional richness to the image and binds the painting as a cohesive design. In addition, Pippin's limited palette, yet saturated tones, give dignity and solemnity to the historic setting.





The Brandywine River Museum's acquisition of Birmingham Meetinghouse III was made possible by the Museum Volunteers' Art Purchase Fund and other funds. The painting will join three other works by Pippin already in the museum's collection: Saying Prayers (1943), Potted Plant in Window (1943), and Floral Still Life (not dated).





The museum currently features A Brandywine Christmas, on view through January 8. The exhibition features a "step-in" dollhouse whose rooms are filled with exquisite hand-crafted furnishings, a large display of rare antique dolls, an O-gauge model train display covering 2,000 feet of track, and thousands of whimsical "critter" ornaments made from natural materials.





The Brandywine River Museum is located on U.S. Route 1 in Chadds Ford, Pennsylvania. The museum is open daily, except Christmas Day, from 9:30 a.m. to 4:30 p.m. Regular admission is $10 for adults; $6 for seniors, students and children ages 6 to 12; and free for members and children under six. For more information, please call 610-388-2700 or visit www.brandywinemuseum.org.





Comments
comments