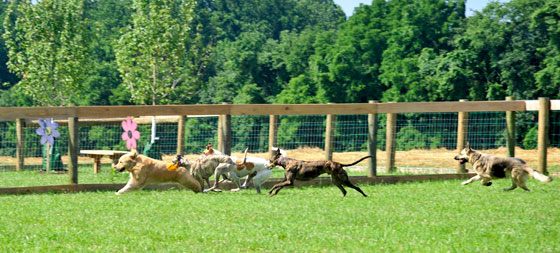 There wasn't much barking, just
a lot of running around and panting when the Pennsbury Bark Park opened on June
25. Close to two-dozen large dogs and a handful of smaller dogs played and
socialized in areas fenced off for them in the far eastern side of the township
park.
Township resident Kendal
Reynolds spearheaded the effort to get the park up and running.
"It's a great way to socialize
and get dogs healthy and active," Reynolds said. "We all live in our own
homes…It's nice to have a common place in the park where neighbors can have
their dogs interact, develop social skills and get used to other dogs."
She said that socialization is
necessary because dogs are social animals.
"It makes for healthier dogs,"
she said. "They're not meant to be isolated. When they're in their pack
they enjoy each other. They talk to each other, they correct each other."
Agreeing with Reynolds on the
need for socialization of dogs is Stephanie Rossini, owner of GiggyBites in
Olde Ridge Village in Chadds Ford.
"It's really important for dogs
to be socialized with other people and with other dogs," Rossini said. "It's
healthy. Just the interaction with other dogs is important for their balance.
As much as we do for them, they need to be around their own kind."
There are two sections of the
Bark Park in adjacent fenced areas. One is for larger dogs and another for the
smaller ones. Aggressive dogs and puppies younger than six months are not
allowed. Dogs in heat are also prohibited. All dogs must be licensed.
Dogs must be kept on their
leashes to and from the area, but those leashes come off once the dogs and
their owners are inside the enclosures. Owners must clean up after their dogs
and monitor their behavior.
The park is open from dawn to
dusk, but Reynolds said there are also informal meet-up times. Groups using any
of the social media can arrange get-togethers. Also, there are two set meet-ups
scheduled for 9 a.m. Saturdays and 10 a.m. on Sundays.
Dog owners from townships other
than Pennsbury may use the park.
Ed Rahme, from East
Marlborough, was on hand with his dog Darwin, a mixed-breed that's part Thai
ridgeback and, possibly, Chihuahua. He said the park in Pennsbury is convenient
because he had been taking Darwin to a park in West Chester.
"I want him to meet folks closer
to home," said Rahme.
He said the park seemed well
maintained.
"I know it's brand new, but
it's more about the dogs and the interaction of the dogs…What's necessary is
for people to respect the park in order to make it more than just a fenced in
area for dogs to run around."
During opening day, Reynolds
acknowledged several different people who had a hand in helping the park get
started. She singled out Boy Scout Drew Smallacombe, from Troop 31 and Erik Del
Angel of Del Angel's Landscaping.
Del Angel donated trees while
Smallacombe installed the interior fencing, made benches and planted the trees
as part of his Eagle Scout project.
The township helped with part
of the funding. There had already been a plan for perimeter fencing of the
township park, so supervisors agreed to pay for the bark park perimeter fence.
Reynolds said additional money
came from private donations, but Smallacombe's project was most significant.

Rich Schwartzman has been reporting on events in the greater Chadds Ford area since September 2001 when he became the founding editor of The Chadds Ford Post. In April 2009 he became managing editor of ChaddsFordLive. He is also an award-winning photographer.
Comments
comments