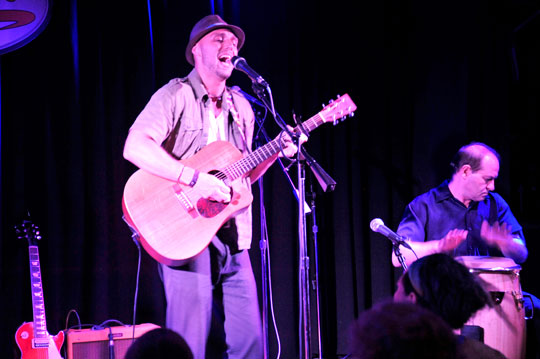 For Bill Rose, music is about
community and maybe a little bit about therapy, too.
"I do lean on my guitar, at
times," Rose said. "But, it's also about community and raising money for a
greater cause. It offers an opportunity to share my thoughts."
Rose, a Chadds Ford Township
resident, made the comment shortly before performing at The Kennett Flash. The
performance was a benefit concert for the West Grove Garage.
The Garage, currently in
Kennett Square only, is a youth oriented facility where middle and high school
students can go after school to get help with homework, use a computer or shoot
some pool. The West Grove facility has not yet been built, but Rose, his Rose
Project band, and other interests are raising money for that end.
Rose, 29, is a Johnstown native
who's lived in Chadds Ford for about a year, though he's been in the general
area for more than three years. He describes his music as magnetic, acoustic,
alternative and progressive.
"I use the word magnetic
because the way I write, the way I get my sound…it's brought in by the
environment I'm in. It's brought in by the political climate. It's brought in
by different travels. I think it's magnetic. It pulls in things that are
happening in my life," he said an interview in Chadds Ford. "It's almost an
acoustic, melodic, soft rock feel."
Rose has lived in other
countries, Germany and places in South America, and he acknowledges that much
of his work is political. There's a strong Bob Dylan and John Lennon influence
to The Rose Project music, according to a bio blurb on the group's MySpace
page.
The Rose Project recently
released a new CD, "Small Smoke and a Cup of Tea." A terrorist explosion at a
rugby club in Uganda during the World Cup soccer matches last year inspired the
title track.
Musically the cuts tie
together, but there was no intended theme, he said. However, Rose added: "When
I write, there's always a sense of greater purpose or reasons for being on this
earth. I think those questions are always in the songs that I'm writing,
whether I'm writing about love, about spirituality, whether I'm writing about a
political situation, I think there's always a turn around question—why is this
happening. There are a lot of questions being asked in this record. It's not
just me telling my point of view…Maybe my target audience is the listener who
wants to think a little more about his or her situation."
As is often the case, Rose's
music career did not come first and he still has his "day job."
He has a degree in business and
information systems management and spent several years working for attorneys in
computer forensics. That, he said, wasn't very fulfilling, so he made a change.
He now works for the Chester County Intermediate Unit as a program coordinator
putting together after-school programs for Latino students and their families,
he said.
That led him to going after a
master's degree in international development through Eastern University. It was
that program that had him going to Kampala, Uganda where he experienced the
rugby club bombing. He's scheduled to return to Uganda this summer, he said.
Music is neither primary nor
secondary to Rose. He said it all comes together. His guitar is with him during
all his travels. He said he wound up playing an eight-song impromptu concert at a
bus stop during a recent trip to Costa Rica.
"That's one of my favorite
things about music, when it just happens naturally," he said. "I'm always going
to be playing music."
Several Rose Project tunes,
including Love Will Come from the recently released CD can be previewed at http://www.myspace.com/billroseproject

Rich Schwartzman has been reporting on events in the greater Chadds Ford area since September 2001 when he became the founding editor of The Chadds Ford Post. In April 2009 he became managing editor of ChaddsFordLive. He is also an award-winning photographer.
Comments
comments