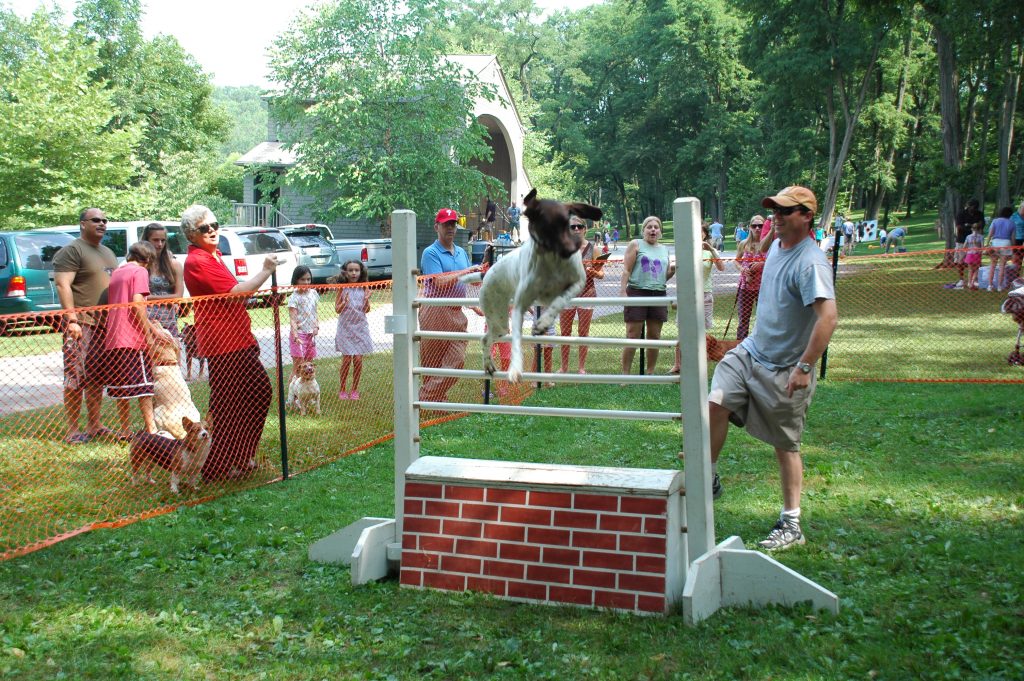 There was a little of something for everyone at Anson. B. Nixon Park in Kennett Square Saturday. The eighth annual Family Fun Fest featured a dog jumping contest, children's identification fingerprinting, live music and a chance for kids to make some free-form art and more.
Pam Carter, chairman of the Kennett Area Park Authority said the funfest got started when KAPA was thinking about activities for kids to do in the summer when they were running out of things to do.
As with many such events, Family Fun fest has grown and evolved over the years.
"It was meant to be for the enjoyment of children in the community," Carter said. "It's grown a little bit [over the years.] The dog jump is one end of the event that attracts dog lovers. Sometimes they stay around. Sometimes the dog people go away and the kids come in. So, we probably attract 200 or three hundred families here every summer."
The day began with the annual dog jumping contest where dogs of all sizes get the chance to jump standard hurdles. The winner in the large breed competition was Mark, a 4-year-old German shorthaired pointer owned by Geoff Brutcher of Pocopson Township. The medium breed winner was perennial winner Misty, an 8-year-old Llewellin setter owned by Norris Myers of Kennett Square.
Of a more serious nature was the child identification and fingerprinting. Tpr. Corey Monthei, the community services officer from Pennsylvania State Police Troop J, of Avondale was on hand to take the fingerprints. It's the parents who keep the prints.
"Parents appreciate the resource," Monthei said while fingerprinting 6-year-old Tucker Aliberti from London Britain Township.
Tucker's mother, Julie Aliberti, supported Monthei's comment.
"I went on-line and there are local pedophiles. I want to have the back up just in case something would happen," Julie Aliberti said. "I try to teach him not to talk to strangers, but it's difficult."
Also on hand was Peacework, a 14-year-old art program for kids who are homeless, neglected or who have been victims of abuse.
Barbara DesJardins is the founder of Peacework.
"We love for kids to be able to paint," DesJardins said, "and outdoors is the most fun at creating art at all."
DesJardins said they also invited the group of children Peacework usually deals with.
"They can be anonymous here, they can come and be just like everyday kids and no one knows who they are. They mix with the whole population, which they should be able to do," DesJardins said,
The purpose of Peacework, she said, is "to help children heal through art."
She said it's a form of art therapy, though not everyone associated are therapists. "But we know about children and we know how it feels to be hurt."
The Peacework program is free for the kids.
Family Fun Fest also included a disc golf demonstration and live music with Daria–who also did a drum circle.
Radio station WJBR was on hand to help with a food collection for the Kennett Community Food Cupboard.
Family Fun Fest is always held the last Saturday of July. For he last four years, state Rep. Chris Ross, R-158, of East Marlborough has helped sponsor the event and bring in some state resources, such as the child ID program.

Rich Schwartzman has been reporting on events in the greater Chadds Ford area since September 2001 when he became the founding editor of The Chadds Ford Post. In April 2009 he became managing editor of ChaddsFordLive. He is also an award-winning photographer.
Comments
comments