Not everyone thinks the Unionville-Chadds Ford School Board or the district administration has acted in good faith during the last several years. Chad Williams, a U-CF parent from Birmingham Township is one. Another is state Sen. Scott Martin, chairman of the Senate Education Committee.
Martin, R-13, went so far as to call two U-CF officials "arrogant" in how they responded to requests for information about the district's authority to lockdown schools and mandate masks on students in reaction to the COVID pandemic. Martin's comment was reported in a National Review article on Oct. 27.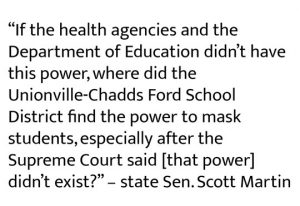 The Lancaster County Republican was referring to a letter he received from Unionville-Chadds Ford School Superintendent John Sanville and School Board President Jeff Hellrung in response to his letter from June asking them what authority the district had in continuing to have students wear masks even after a state Supreme Court decision overturned the Wolf administration's mask mandate.
That decision came down in December, but the school district didn't make masking optional until March.
"If the health agencies and the Department of Education didn't have this power, where did the Unionville-Chadds Ford School District find the power to mask students, especially after the Supreme Court said [that power] didn't exist," Martin asked.
In a telephone interview with Chadds Ford Live on Nov. 2, he said he was disappointed in their response to his letter because they not only didn't give him a direct answer, but they also said he should be doing other things.
In their letter, Hellrung and Sanville first questioned the source of Martin's letter: "To the extent your office did author the letter that we received, it is disappointing that the Chairman of the Senate Education Committee - holding yourself out there as chairman of the committee - would not complete some minimal due diligence like contacting the district to discuss these issues first."
The letter went on telling Martin he should be concerned with other matters: "[W]e would have hoped the chairman of the committee would be spending more time addressing critical issues that face Pennsylvanians like a pending shortage in highly qualified teachers, the persistent underfunding of our K-12 public schools, and the vital need for important and substantive charter school reform."
Martin said in the interview that he only asked what others had previously asked without ever receiving a direct answer.
"Many of the questions I asked were based on questions that were submitted to them prior or asked of them at public meetings. Obviously, there weren't answers given…Parents and families deserve answers because it's their school district. At the very least, the whole purpose of the sunshine laws, the whole point of open records legislation is for our citizens to have access to their government…To not be able to answer simple questions as to where your power is rooted to make these decisions, is unacceptable," he said.
Martin said school districts were legally OK in locking down and mandating masks during the governor's emergency declaration but not after the declaration was overturned.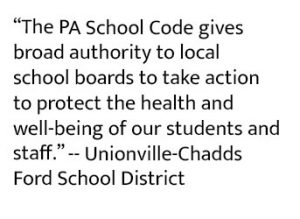 Chadds Ford Live asked Hellrung and Sanville for a comment on Martin's statements and asked if they were prepared to give a direct answer. In response, Director of Communications & Community Relations Christa Fazio sent the following.
"Our district has answered these questions throughout the pandemic and beyond and has been fully transparent to our citizens. We have even offered to meet and have met in person with several members of our community seeking clarification on our pandemic response. We pride ourselves on our long-standing tradition of open and honest government. Those who live in our community cite our transparency as a point of pride."
The response also said the district has responded to Martin several times and has invited him to visit for a conversation and "to see firsthand how our students are thriving in our school district. This invitation offered the opportunity for an authentic discussion from which the Senator would have learned a great deal about our district and how well we navigated the pandemic. He has not responded to our invitation."
As for answering where the district got the authority to continue the masking policy, the district's response was, "The PA School Code gives broad authority to local school boards to take action to protect the health and well-being of our students and staff. We did lean on the law and legal precedents that give school boards wide authority to protect students and maintain a safe environment."
According to both Williams and Martin, school district representatives have stonewalled answering questions about the district's authority to force students to wear masks even against parents' wishes.
Williams said he's been asking for that information — through email and right-to-know requests — for more than a year but that he never received a direct or definitive answer from either Hellrung or Sanville.
And in the process, he said, students and their families were hurt by those lockdowns and later forced masking.
"The fact that they ignored the harm to Claude Albert's son, [and to another family], my kids, and all of the children of parents who spoke at that Feb. 14 school board meeting is a big problem for them. They knew they didn't have legal authority and knew they were hurting kids. That is why they're refusing to produce the records," Williams said in a recent email to Chadds Ford Live.
As previously reported by Chadds Ford Live, Claude Albert was denied the right to speak at a board meeting in December, to advocate for his son because he lives outside the district, while his ex-wife and son live in Chadds Ford.
Williams eventually contacted Martin for assistance because he didn't think the local representatives or state senator would be of any help.

Rich Schwartzman has been reporting on events in the greater Chadds Ford area since September 2001 when he became the founding editor of The Chadds Ford Post. In April 2009 he became managing editor of ChaddsFordLive. He is also an award-winning photographer.
Comments
comments