Pennsylvania State Police
Media Barracks
• State police arrested a 35-year-old man from Clayton, Del. for stealing toilet paper and Tide Pods from the Wegmans in Concord Township on Nov. 8. A report identified the suspect as Paul Murphy and said he fled the store after stealing more than $57worth of Charmin Extra Strong toilet paper, Tide Pod Sport, and Tide Pod Original.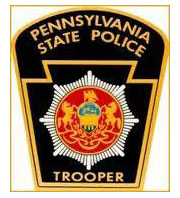 • Police are investigating a theft by fraud case involving a business in Concord Township. The report said someone claiming to be from the corporate office told an employee to transfer $900 from the safe to the caller so that cleaning supplies could be shipped. The report said there were no cleaning supplies ordered, and the caller was not from the corporate office.
• Mavis Discount Tire in Chadds Ford is out $115 and a new tire. Someone drove off without paying for the tire put on his vehicle.
• According to a police report, Arthur Reddick, 20, was arrested for harassment with physical contact following an altercation in Concord Township on Oct. 30. The report said hit a • 20-year-old woman in the face, bruising her jaw, at 100 Maris Grove Way.
• Police are investigating the theft of $2,000 worth of equipment taken from a barn in Concord Township on Nov. 6. Among the items stolen were motocross riding equipment, a DeWalt miter saw, and an 8,000-watt generator.
• Four people and a business were the victims of theft when someone breached a fence at Extra Space Storage in Concord Township on Oct. 24. Among the items stolen was a red ATV.
Avondale Barracks
• Matthew Pierce, 19, of Hockessin, was arrested for drug possession in Kennett Township, a police report said. According to that report, police conducted a traffic stop on Route 1, just south of Route 52, and Pierce displayed "numerous indicators of impairment along with the smell of burnt marijuana." A probable cause search turned up a small amount of marijuana.
• Police said they arrested John Connelly, 25, of West Chester, for violating a PFA, protection from abuse, order on Oct. 3.
• Two women, a 32-year-old from Northeast, Md, and a 22-year-old from Oxford, Pa., face retail theft charges. Police said they arrested the women for stealing from the East Marlborough Township Walmart. Police did not identify the women, nor did they specify was had been taken. The incident happened on Oct. 25.

See Contributors Page http://chaddsfordlive.com/writers/
Comments
comments