Pennsylvania State Police
Media Barracks
• State police are investigating the reported theft of $75,000 worth of merchandise from the Mykonos Boutique on Route 202 in Concord Township. Police said they were called to the shop shortly before 10 a.m. on June 25 and found signs of entry into the building. Anyone with information is asked to phone the Media barracks at 484-840-1000.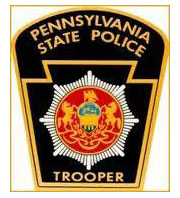 • Someone vandalized decoy surveillance cameras, No Parking signs and No Trespassing signs at a property on Hickory Lane in Chadds Ford Township. Police were called to the scene on June 25.
• A Kennett Square woman was cited following a two-vehicle crash in Chadds Ford Township on June 10. She was also injured and transported to Crozer for treatment. Police said Pamela Talamonti-Peyton, 55, was driving north in the left lane of Route 1 when she attempted turning left onto Harvey Road, but crossed into the path of an oncoming vehicle and was struck on the passenger side of the Ford Focus she was driving. The impact forced the driver's side of the car into a utility pole. The accident happened shortly before 7 p.m.
• Police said they arrested Tony Payne, 60, of Unionville, N.Y. on DUI charges. According to the report, troopers responded to Station Road and Fellowship Drive when Payne called 911 saying he had been injured. Police said the injury happened as Payne was changing a flat tire. They also found him to be "heavily intoxicated," the report said. The incident happened on June 10 at 10:22 p.m.
Avondale Barracks
• A 24-year-old man from Columbia, Pa. was arrested on drug charges following a traffic stop on Route 1 in Kennett Township on June 9. Police did not name the suspect in the report but said they initiated the traffic stop for several traffic violations. When police approached the vehicle, the report said they could smell marijuana and found some during a probable cause search.
• Police are investigating an attempted break-in at the Landhope Farms Store in East Marlborough Township. Someone had shattered the window on the west side of the store in an attempt to gain entry, the report said. The incident happened during the overnight hours from June 23-24. Police were dispatched to the scene at 4:44 on June 24.

See Contributors Page https://chaddsfordlive.com/writers/
Comments
comments