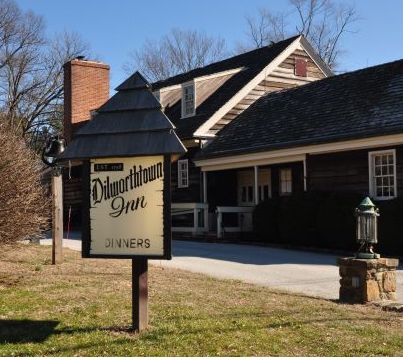 After almost a year, the Dilworthtown Inn has new owners. Frank Rupp, a member of the board of Chadds Ford Business Association, and his wife Susan made settlement earlier this month for the inn and sister properties, the Blue Pear Bistro and the Innkeeper's Kitchen.
The restaurants have been closed since the death of Jim Barnes in April of 2019. Who will eventually operate the restaurants is yet to be determined.
"We are looking for stewards for each restaurant," said Frank Rupp. "We want restaurateurs who share our interest in preserving history."
Since purchasing the properties on Jan. 21, there has been a lot of interest and a number of tours from area restaurants looking to expand.
"No chains or franchises," said Rupp. "We are looking to partner with people who have a depth of experience running restaurants and whose menu shares our vision for this historic property.
The purchase of the properties includes all the décor, with the exception of family heirlooms, which may allow future tenants to preserve the past. In addition to the restaurants, the Rupps have also purchased Barnes' former home behind the bistro and the white house behind the Innkeeper's Kitchen.
"Our goal is to make Historic Dilworthtown into a destination date for young people," said Rupp. "We have a 21st-century vision for an 18th-century treasure."
Their vision is to use all the properties to create a small village-like atmosphere that will invite diners to walk around and visit the other businesses after their meal.
The Rupp's ownership of the properties will be a consistent presence to keep the vision intact, he said. It also allows the restauranteurs to focus on running their business while the Rupp's care for the properties.

Karen Myers lives in Pocopson Township and has written for several local publications. A strong supporter of our community, Karen has served on several non-profit boards, such as Pocopson Elementary PTO, The United Way of Southern Chester County, Chester County Art Association and Tick Tock Early Learning Center. She received her M.B.A. from the University of Delaware and worked in marketing and operations with a focus on banking.
Comments
comments