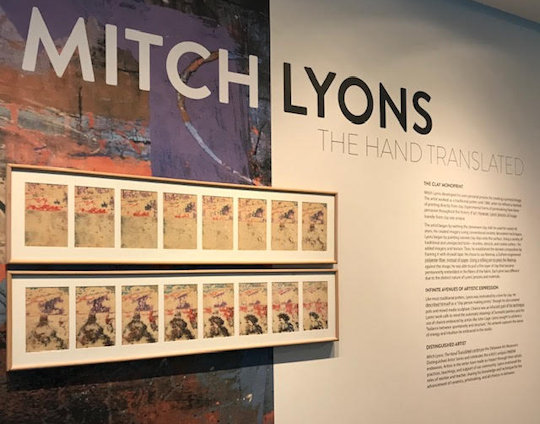 Mitch Lyons was a popular local artist and educator. His wife Meredith Wakefield is now keeping his legacy alive by managing his estate and continuing to show his art.  The Delaware Art Museum (DAM) has an exhibit entitled, "Mitch Lyons: The Hand Translated." The show marks the 50th anniversary of Lyons' development of the clay monoprint technique. The show, which opened last October, was mounted as part of the Distinguished Artists Series that Lyons had helped in organizing prior to his death. It's a well curated survey of Lyons' journey. It includes many of his best monoprints and clay vessels and is a delight to see.
Lyons began his career by throwing pots, but he wanted more out of his clay. He first began experimenting with combining print making with clay in 1968 when at Tyler School of Art, where he went back to school for a graduate degree in Ceramics after completing an undergraduate degree in graphic design. He continued to make pots and teach until 1980 but once he perfected his monoprinting process, he became a full time artist, conducting workshops and making training films to educate others. He published a few books on the subject as well. He was clearly excited about his breakthroughs as were many of his students.
He experimented with a variety of substrates including rice paper, sand paper, Reemay and Pellon (nonwoven craft materials typically used as interfaces between fabrics).  His preferred clay for his monoprints was stoneware, a high fire porous clay which allows the slab to be wet evenly which prevents it from warping. He used a variety of materials for stenciling including rope, lace, feathers, hand tools, and natural elements like leaves and flowers which he liked for their textures.
The natural world was a constant inspiration. Wanting to contribute to the ancient tradition of representing the human body on ceramic vessels, he also used figures on his pots and in his prints. In his last decade his imagery expanded to include cyclists and groups of walking or dancing figures. In recordings he said he didn't have a favorite color. He thought of them all as just a process, but according to the text in the museum show, there are definite periods when he changed his palette. Not surprisingly, his work took a darker turn after his first wife's death in 2009. And in his last decade, he took on a bolder color palette.
A documentary, created by the Philadelphia-based Senior Artists Initiative is on view outside the gallery and includes archival footage and interviews with friends and colleagues who share their thoughts and stories about the extent of Lyons impact and work.
Artist and friend Peter Saenger mentioned that one of his most successful endeavors was in displaying his work at the Central Pennsylvania Festival of the Arts in State College. He showed his work there between 1990 and 2013. According to its website, Lyons is the only artist to have won Best in Show there three times; in 1994, 1995 and 1999. Nancy Berkaw, co-owner of Station Gallery shared that Lyons was the very first contemporary artist to show at her gallery in 1979.
John Baker, Professor Emeritus at West Chester University and good friend, talked about his early days in school saying, "Mitch was an inventor within the ceramic and also the printmaking world. As a ceramic artist, he really didn't enjoy the glazing process which was somewhat atypical for that time period. Instead he used colored clays as a source for decoration which evolved into inlays in his pots." Artist, educator and former student Rhoda Kahler said, "He was a serious artist and he made serious art". Because he straddled the two worlds of ceramics and printmaking, he wasn't always sure of his standing in either of them. Always humble, he was thrilled to be recognized by DAM.
Mitch Lyons: The Hand Translated is at DAM through February 2nd. If you are interested in learning Lyons' clay monoprinting process, Meredith Wakefield is conducting workshops this month at DAM and in his studio in New London, PA. For a schedule of events, visit https://www.mitchlyons.com/schedule-1.
Other events worth checking out this week: Also at DAM, there is still time to see the powerful group photography show "Posing Beauty in African American Culture" including works by Mickalene Thomas, Carrie Mae Weems and many others through January 25th. "Sound the Deep Waters", a collection of four large scale paintings addressing gender and identity by Angela Fraleigh that were inspired by works in DAM's permanent collection are also on view through April 11th.
Whatever you do this week, support the arts!

A native of Philadelphia, Constance McBride lived in Arizona for 16 years, where desert observations made a transformative impact on her work as a research based visual artist. Passionate about contemporary art, she was actively engaged in the local arts community. She served as a board member for several art organizations, managed an artist collective/gallery space, curated and juried several exhibitions and wrote for two arts publications in Phoenix. She taught ceramics at Shemer Art Center and Museum and exhibited her work both locally and nationally. McBride returned to Pennsylvania in 2018 and resides in Chester Springs with her husband and two dogs. In West Chester, she serves as a board member at The Art Trust Gallery at Meridian Bank and teaches ceramics at Chester County Art Association. She also teaches at Clay on Main in Oley, PA. She is a member of American Craft Council, Philadelphia Sculptors, and Women's Caucus for Art, Philadelphia Chapter.
Comments
comments