Pennsylvania State Police
• A Nottingham man, identified by police as Michael Harris III, 25, was arrested on drug charges after police made a traffic stop on Route 1 near Ring Road in Chadds Ford Township on Aug. 6. Police said they found marijuana and paraphernalia in the vehicle.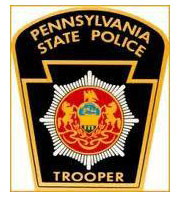 • Police are investigating a burglary at the Cardinal Camera store in Concord Township. A report said $95,000 worth of equipment was stolen after someone broke into the store and damaged a display at about 3:23 a.m. on Aug. 8.
• Charles O. Fehlandt, 23, of Wallingford, was cited for driving too fast after a one-vehicle crash on Heyburn Road at Smithbridge Road, police said. According to the report, Fehlandt was driving on Heyburn, lost control and ran onto the shoulder and hit a tree. He sustained minor injuries but refused treatment, police said. The accident happened shortly after midnight on Aug. 11.
• A police report said Cynthia Joseph Buchanan, 31, of Chadds Ford, took $49 worth of merchandise from Wegmans without paying on Aug. 12. A second suspect, Joshua Clyde Tucker, 30, also of Chadds Ford, was also arrested.
• Police are investigating a case of identity theft from a theft in Concord Township. A report said a purse left in a locker was stolen from a woman who was taking a yoga class at Empire Yoga at 391 Wilmington Pike. The victim's credit cards were later used at several stores in Delaware. Police described the suspects as black females, one tall in her late 20s or early 30s, wearing black tights, jean jacket and blue Nike hat. The other suspect is shorter, about 5'6", heavy set in her late 50s, wearing a red and white dress, and a jean jacket and white polo cap. The pair fled in a grey vehicle that police think is a Toyota Camry. The women entered the studio asking to use the restroom. The incident happened 7:30 p.m. on Aug. 17.
• Police are also investigating the theft of 20 boxes of sneakers taken from DSW in the Concordville Town Centre on Aug. 18 at 2:03 p.m. The suspects are two black females who witnesses said fled  in a bronze or copper colored sedan temporary Delaware tag XP725522. Anyone with information is asked to call Tpr. James Lark at the state police media barracks at 484-840-1000.
• Mary M. Hartman, 66, of Glen Mils, was cited for her involvement in a two-vehicle accident in Concord Township on Aug. 21, police said. According to the report, Hartman was driving south on Evergreen Drive at Regency Plaza at 1:19 p.m. and failed to stop at a stop sign. Her vehicle then struck another. Neither driver was injured, police said.
• A rear-ender accident sent a 50-year-old woman from Elkton, Md. to the hospital after the Chevrolet Equinox in which she was a passenger was struck from behind. Police said Harold E. Little, 77, of Berwyn was cited for following too closely after the accident on Route 202  near Isaac Bullock lane at 5:30 p.m. on Aug. 23.
• A driver, unidentified in the police report, was cited for following too closely after striking another vehicle from behind on Route 1 at Route 202 on Aug. 31.
See Contributors Page http://chaddsfordlive.com/writers/
Comments
comments