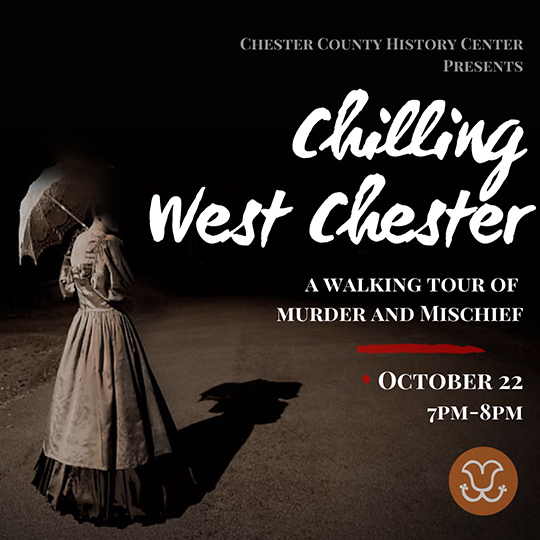 • Join the staff of Chester County History Center on Oct. 22 at 7 p.m. as they explore the dark history of West Chester, including true tales of murder, mischief, and misadventure. Guests will hear five macabre stories from West Chester's history while visiting some notable downtown landmarks. **Due to the graphic nature of the content, this program is not suitable for children.** The cost is $15. Go here for tickets and more information.
• On Saturday, Oct. 24, at 2 p.m., English food historian Marc Meltonville will log on remotely from the UK to present "Brewing at Newlin: An English Ale in an American Kitchen." He will be discussing an experimental project that has been running over the last few years to brew household beer in the kitchen at Newlin Grist Mill. Find out how they made the beer happen, the process of putting together the 18th-century equipment, and a little bit of beer history thrown in. Register for "Brewing at Newlin" at https://zoom.us/meeting/register/tJYkf-igqz0pHtFX6PjiMrh7ykxaXIc3iqun.
• The Residence at Chadds Ford is holding a Drive-By Pie Giveaway on Thursday, Nov. 12. There will be two drive-by sessions, one from 10:30 to 11:30 a.m. and another from 4:30 to 5:30 p.m. It's the Residence's way of thanking the community for all its support in welcoming the memory care facility to Chadds Ford. There will be pumpkin custard, Dutch apple crumb, and Southern pecan. RSVP by Nov. 2 by contacting Derrick Manley, the sales and marketing director, at dmanley@residencechaddsford.com, or by phoning 610-251-3837. The Residence at Chadds Ford is located at 1778 Wilmington Pike.
• The Bethesda Project is offering a virtual evening with Victoria Wyeth on Nov. 19 at 7 p.m. The granddaughter of Andrew Wyeth will discuss the life and work of her famous artist grandfather. The event, held as a part of Bethesda Project's programs for National Hunger and Homelessness Awareness Week, will be held virtually and will cost $100 per device. People can buy tickets for the event at www.bethesdaproject.org/2020-hhaweek. The Bethesda Project is a local nonprofit that provides emergency shelter, permanent housing, and case management for more than 1,400 individuals experiencing homelessness each year.

See Contributors Page http://chaddsfordlive.com/writers/
Comments
comments