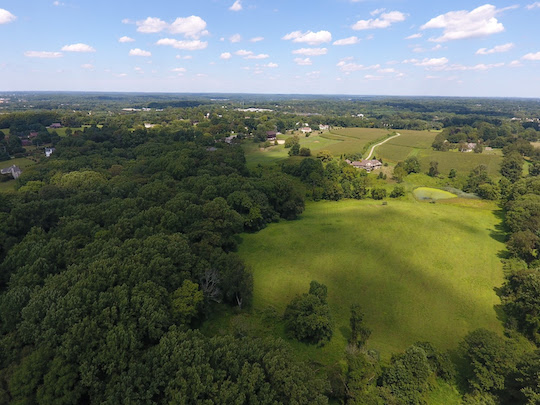 The American Battlefield Trust and the North American Land Trust have launched a fundraising campaign to protect a key portion of one of the critical battles on our journey to independence, Brinton Run Preserve on the Brandywine Battlefield. This 72-acre property will be owned and maintained by NALT, marking the first time the organization typically focused on holding and administering conservation easements, will manage and steward a site expressly for public access.
"Much like the Battle of Bunker Hill, the fighting at Brandywine technically resulted in a loss for American forces," said American Battlefield Trust President Jim Lighthizer, "but was more significant for what it wasn't. This was no disorganized rout, no demoralizing defeat. At Brandywine, the Continental Army under Gen. George Washington proved it could hold its own against British regulars in an all-day, stand up fight. And other powers in Europe took notice, helping forge the alliances that led to American independence."
In terms of duration, land covered and troops engaged, Brandywine was the largest battle of the Revolutionary War, making it an important site to protect if future generations are to access the historic landscapes where they can best learn about this period in history. The battlefield's location in the rapidly developing suburbs of Philadelphia makes it an important and timely target for preservation. The Brandywine Battlefield is rated Priority I, Class A, with a high short-term and long-term threat, according to the National Park Service's Report to Congress on the Historic Preservation of Revolutionary War and War of 1812 Sites in the United States, the highest preservation priority ranking. This property played a role in the battle's final phases, the stalwart American rearguard action that enabled the Continentals to safely disengage and live to fight another day.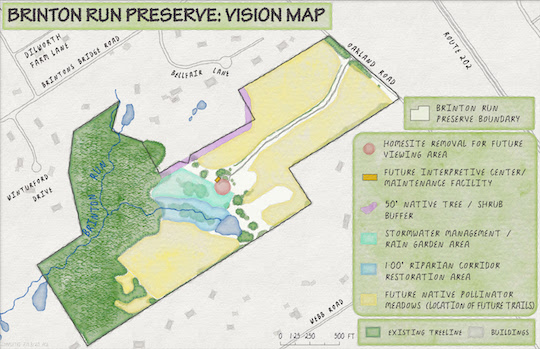 "Even after 28 years in the land conservation business, helping safeguard more than 130,000 acres across 500 projects, it is safe to say that the acquisition of Brinton Run Preserve, named for its stream frontage and adjacency to the historic Brinton 1704 House, is exceedingly special to us at NALT," said organization President Steve Carter. "In setting aside this beautiful, significant property just miles from our headquarters, we have the opportunity to help create a dynamic resource for our home community. Our whole organization is eager to take up the challenge of removing modern visual intrusions and creating a gem in our own backyard."
NALT and the current Brinton Run Preserve property owner, Mrs. Frank Baldino, Jr., Ph.D., eagerly began discussions to envision a space where history and the land's natural resources were preserved. "Steve and his team at NALT were so passionate in their proposal to conserve this land, and to share all it had to offer with its community," said Sandra Baldino. "It is ABT and other critical funders that are helping make this opportunity available to and for the public. I couldn't be more proud to be a part of this endeavor."
In addition to removing a modern home, NALT plans to reintroduce native plant species across the property, undertake riparian maintenance, implement a trail system and investigate opportunities for community-based land stewardship programs in partnership with The Land Conservancy for Southern Chester County and other local conservation organizations. Interpretive opportunities to help passive recreational users better understand the history of the Battle of Brandywine and its significance also abound.
The total cost for the project is approximately $3.85 million. The American Battlefield Trust has applied for a $1.8 million American Battlefield Protection Program Battlefield Land Acquisition Grant — among the largest ever sought for a Revolutionary War acquisition — toward the project, with Chadds Ford Township acting as the government sponsor. This federal grant would be matched by funding from other sources, including individual donations and a grant from Delaware County Delco Green Ways. NALT is also pursuing funding from the Pennsylvania Department of Conservation and Natural Resources, the Pennsylvania Department of Economic Development and other private foundations. Members of the public are able to make individual contributions toward the project by visiting http://www.battlefields.org/Summerof77.
"Our community is immensely proud of its history and its scenic beauty," said Maryann Furlong, Chadds Ford Township Manager. "This project will materially enhance our reputation in both capacities and undoubtedly become a treasured community resource."

Comments
comments