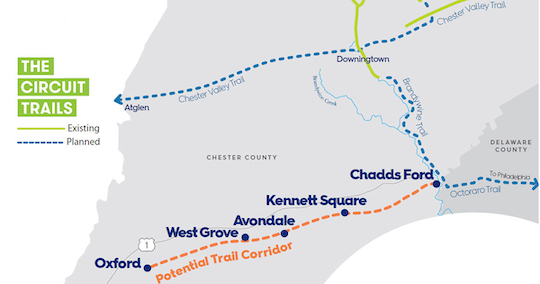 Chester County Commissioners are scheduling a public meeting for a proposed trail plan that would connect Pennsbury Township with Oxford. Commissioners last year accepted a grant award to perform a study that would examine the feasibility of developing a multi-use trail to serve the communities in southern Chester County.
On Tuesday, July 14, the Chester County Planning Commission will hold the first public meeting discussing this project. The meeting will be held from 7-9 p.m. via Zoom. The meeting will also be streamed live via CCPC's Facebook page. Register here.
"We're excited for the county to begin this public engagement process," said Executive Director Brian O'Leary in a press release. "We're looking forward to receiving feedback from local residents and potential trail users."
The Southern Chester County Circuit Trail Feasibility Study seeks to connect the boroughs and growth areas along the Route 1 corridor in southern Chester County (from Oxford to Chadds Ford — Pennsbury), to the Brandywine Trail and the Circuit – the Greater Philadelphia region's 800-plus-mile network of existing and planned trails.
Given the interest in trails and the need for more pedestrian and bicycle mobility options in southern Chester County, the study seeks to find a route where an off-road, multi-use path could possibly be developed. The path would provide a safe and viable connection between the communities of Kennett Square, Avondale, West Grove, and Oxford Boroughs, as well as Pennsbury, Kennett, New Garden, London Grove, Penn, Upper Oxford, Lower Oxford, and East Marlborough Townships
"Many of our residents are becoming more interested in using alternative modes of transportation, as well as wanting more outdoor recreational opportunities," said Chester County Commissioners' Chair Marian Moskowitz in the release. "This trail would help address both of those needs."
Commissioner Josh Maxwell said, "Trails make Chester County special and their interconnections are vital to ensuring our residents have safe trail access for decades to come. I hope our residents take this opportunity to share how they would like to see us continue to improve our trail network throughout Southern Chester County."
The intent of the Southern Chester County Circuit Trail project was identified in Landscapes 3 (the county's comprehensive plan), which recommends creating a countywide, interconnected trail network.
"The goal of this study is to determine whether a trail is feasible and, if so, what is needed for it to be built," said Commissioner Michelle Kichline. "If a trail is not feasible, the report will also identify potential alternate options."
The feasibility study is expected to be complete by the end of 2020.
Partial funding for this project comes from the Regional Trails Program, administered by the Delaware Valley Regional Planning Commission, with funding from the William Penn Foundation.
Upon approval of the study's funding, the county formed a steering committee, including representatives from municipalities, county departments, and other partner organizations in the area.
There is also a public survey available in both English and Spanish, which remains open through the end of July.
To learn more about this project, visit:
https://www.chescoplanning.org/transportation/SouthernChesco.cfm.

Comments
comments