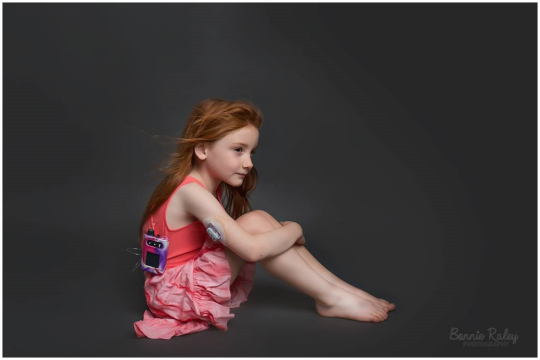 Mairead Raley, 9, of Kennett Square has been selected by the Juvenile Diabetes Research Foundation to join a delegation of youth advocates in Washington, D.C. The JDRF 2019 Children's Congress will be held from July 8-10. The delegates will be lobbying their Members of Congress to remind them of the vital need to continue supporting Type 1 Diabetes research that could reduce the burden of this disease and ultimately find a cure.
Raley attends St. Cornelius School in Chadds Ford. Most days are she goes to classes just like all the other students. Her blood levels are monitored by a Dexcom device she wears. Mairead's mother, Katie, says she thinks the device looks like a beeper. Katie Raley is looking for even more help in the future from technology developed from the research at JDRF.
When Mairead's Dexcom rings, she looks to see if her blood sugar level is low or high. If low, Mairead goes to the nurse's office accompanied by another student. If high, she drinks water. The Dexcom also sends a signal to her mother. Mairead's message to Congress is "I want a cure so we don't have to deal with low and high levels, shots and needles."
When not in school, Mairead is a Feis Irish dancer. She spends much of her time practicing and dancing in competitions. This past weekend she went to the Open Championship in New Jersey and placed 4th. Next month just before her trip to Washington D.C. she will be competing at the highest level in the North American Championship in Vancouver.
Exercise is complicated by T1D, Katie said. The motion, the heat and excitement all affect blood sugar levels. Katie and Mairead vigilantly watch and manage levels. While hoping for a cure in the future, Mairead is not standing still waiting.
Mairead would like to be either an endocrinologist, certified diabetes educator or professional dancer when she grows up. She also wants to travel the world, saying, "my dream is to be a championship Irish dancer and go to Ireland!"
Video Courtesy for JDRF
Since her T1D diagnosis at age 4, Mairead has become an ambassador for JDRF and the T1D community. She has learned a lot about T1D over the past five years and wants to help kids like herself. Her favorite event is the Gala when older members of JDRF-Delaware dressed as characters in Alice in Wonderland.
"Every day these children and their parents face the burden of type one diabetes and by sharing their stories they become powerful advocates in the fight to end this disease," said JDRF Executive Director Tarra Mandeville. "The Delegates are a representation of millions of other families, including mine, who need the support of the government. Children's Congress gives the T1D youth community a unified voice in front of Congress and a way to urge our government leaders to continue supporting research."
Serving as chair for JDRF 2019 Children's Congress will be Katama Eastman of New York, NY, whose 15-year-old daughter, Merrill was diagnosed with T1D at 15 months. Eastman is Board President of the JDRF New York City / Long Island Chapter. As Chair of the event, she will help engage, support and energize all these Delegates and their families during the advocacy efforts up on Capitol Hill.
For a video of highlights from JDRF 2017 Children's Congress, please click here. The children — ages 4 to 17, representing all 50 states — will participate in a number of activities on the Hill, including a Congressional Committee hearing to share personal testimonies that highlight the challenges of living with T1D and the need for continued funding for research projects such as the Special Diabetes Program (SDP).
Joining the U.S. Delegates will be five International Delegates traveling from Australia, Canada, Israel, the Netherlands and the United Kingdom. Together, the JDRF Youth Delegates will convey a clear message to the Federal Government that T1D is a global problem that requires a global effort.

Emily Myers has lived and worked in Chadds Ford for over thirty years.  She founded the parent company of Chadds Ford Live, Decision Design Research, Inc., in 1982.  ChaddsFordLive.com represents the confluence of Myers' long time, deep involvement in technology and community. Myers was a founding member of the Chadds Ford Business Association and currently serves on its board of directors.  Her hobbies include bridge, golf, photography and Tai Chi. She lives with her husband, Jim Lebedda, in Chadds Ford Township.
Comments
comments