December is the month of gift-giving, celebration and family, and throughout our area, galleries and arts associations are presenting reasonably priced artworks that are perfect for gift-giving. Galleries are also perfect for a fun shopping experience. Have you ever considered giving tickets to an event?
The big art event of the week is at the Wayne Art Center December 17th.  Anyone living near West Chester has heard of the large scale fund-raising efforts by The Uptown Entertainment Alliance to create a performance center at The Armory Theater, located across the street from The Chester County Historical Society.  From these fundraising efforts, the Residential Theater Company (RTC) was also born. This theater performance group will be performing at The Armory Theater.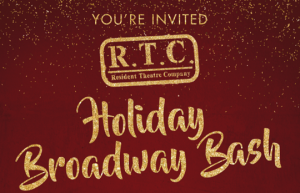 In collaboration with The Wayne Art Center, The Resident Theatre Company will hold it fundraiser entitled Holiday Broadway Bash on December 17th from 6 p.m. to 11 p.m. Professional singers, Broadway music, food, drink and a great silent auction will dazzle the audience. Special guests include cast members of the RTC's first stage production of Monty Python's Spamalot, which opens March of 2017.
Get tickets online and while you are there check out all the awesome silent auction items (also great holiday gifts) at http://www.rtcwc.org. While at the RTC event, you can stroll through the "Craft Forms" Exhibition as well, so that is an especially sweet deal for any art lover.
In the spirit of art gift-giving, I asked several artists and galleries for their recommendations for the perfect art gift.  Encaustic artist Jeff Schaller recommends that people buy.. "anything original and made local. Try to buy it framed so it can be hung once the Christmas decorations come down." He also suggests that buyers pay attention to the email announcement sent out by artists for special holiday promotions, where you can get something reduced in price, by your favorite artists.
Ceramic and monoprint artist Mitch Lyons, suggests buyers "Look no further than your local artist studio… great gifts, made by a local artists, and will be cherished forever."
Metal sculptor Rob Sigafoos puts it best saying that "I prefer to give a gift from  my own hands. Something interactive that brings art, utility, and frequent interaction to my person. I think the "what" is a much less interesting story than the 'how and why'. Gifts need not be elaborate, complex, or expensive. Indeed, the best is the simplest and only from the heart and hand."
In the charming town of Unionville, at 1721 West Doe Run Road, the Kinloch Woodworking owners Doug and Pat Mooberry are opening their doors Monday through Saturdays 9 a.m. to 5 p.m. during the holidays. View the extraordinary exhibition of hand-made, exquisitely crafted wood furniture pieces by Doug Mooberry and the delightful, Pennsylvania inspired pottery pieces of Pat Mooberry.
Kinloch Woodworking is a local gem, and is known over the world as one of the few woodworking workshops that create heirloom pieces of furniture using age-old techniques, and detailed craftsmanship. At at time when so many things are made in China and last about as long as it takes to unwrap them the handmade treasure at Kinloch are a welcome change.  Doug also has wonderful modern pieces that combine the beauty of raw natural wood with strong contemporary and functional design. This is a great place to visit, and to buy something special to be cherished for generations.
Doug's recommendation for the holidays is his beautiful hand crafted chess table with hand-carved chessmen. He suggests "Start a fire set up the chess board and play a game of chess.  A game of strategy and concentration where two people actually have to sit still not answer their cell phones and interact. "
In West Chester, The Art Trust at Meridian Bank has their "Gifted" art show going on through the holiday season, with twenty artists all presenting art for sale under $500. The exhibiting artists are chosen by the board members of the Art Trust, and I look forward to this show every year. Last year I bought a small encaustic by artist Ben Richardson, who is exhibiting again this year along with another encaustic artist favorite, Lorraine Glessner.  Andrew Snyder has interesting handmade ceramic bowls that have terrific textures combined with imbedded photographic images. There are also paintings and jewelry selections.
While at the Art Trust, walk around the corner a couple blocks to Church Street Gallery, 12 South Church Street, which is featuring the paintings of Phil Hill through January 6th.
In West Chester,  The Chester County Art Association's new gift shop is stocked full of original artisan items that are great for gifts, and in their main gallery the annual "$300 and Under" art show and sale gives art lovers many opportunities for wonderful artworks all under $300. The CCAA Exton Square Studio Gallery in the Exton Mall also has a large collection of artworks at reasonable prices, representing the work of many local artists.
In Malvern, Gallery 222's owner Andrea Strang recommends  giving a necklace by Rhoda Kahler, saying "This gift is an original work of art that is wearable. You can share your knowledge of the artist and her work along with discussing the cool up and coming gallery where you purchased it!"  This gorgeous and friendly new gallery currently features the work of three artists, including clay artist Rhoda Kahler.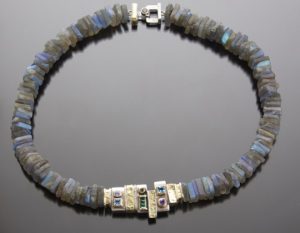 Other gift-giving recommendations from local art galleries include Blue Streak Gallery owner Ellen Batholomaus's suggestion of jewelry from Blue Steak in Wilmington. For example, artist Susan Schulz's labradorite and gold necklace is a showstopper.  In Kennett Square at Mala Galleria, the museum quality jewelry of Helen Mason is for sale, as well as knitted artsy scarves by Roberta Little in fabulous colors, shown concurrently with a beautiful painting show by John Pompeo.
While in Kennett Square, make sure to stop by Philter Coffee and try their holiday "Dick Taylor" chocolate drink. While the art of coffee brewing and chocolate
making is not an art you can hang on your walls, it is a great help to get you through the shopping day, and you can take home a satchel of Dick Taylor chocolate or buy it as a gift with perhaps a mug hand crafted by Charlie Metzger at his artisan shop around the corner.
Art is always the best gift, whether it is an original painting, a photograph, a ceramic bowl or piece of jewelry. Hand-made artworks come from the heart and are one of a kind. Hear from local artists and galleries about what art gift they recommend for this season!

Lele Galer is an artist who has chaired numerous art shows, taught art history and studio art, public art and has chaired, written and taught the Art in Action Art Appreciation series for the UCFD schools for the past 12 years. She worked at the Metropolitan Museum of Art, and wrote for the Associated Press in Rome. She has been dedicated to Art History and art education for most of her adult life. Lele and her husband Brad own Galer Estate Winery in Kennett Square.
Comments
comments