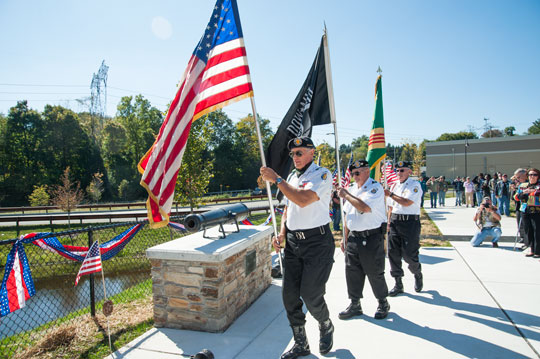 For some local Vietnam veterans, if not most, Saturday was a homecoming of sorts. It was the day the Chadds Ford Vietnam monument — one of the oldest in the country — was rededicated during a ceremony at the monument's new location in a green area of the Wegmans development.
Air Force veteran and former prisoner of war Ralph Galati called the ceremony a "long overdue welcome home."
Galati was the featured speaker on Saturday, Oct. 15. He spoke of the time when many Vietnam veterans were cursed at and spat upon here in the states when they came home from the war. They couldn't wear their uniforms on leave because of the insults of "baby killer," "drug addict" or "warmonger." Some concealed their past military service when applying for jobs because of prejudice and mistrust, he said.
He's glad that those attitudes have changed.
"As citizens, you might disagree with our government. You might not support a particular conflict. But at least today you respect the soldiers, seamen, airmen, and marines that have honorably served our country," he said.
And as a prisoner of war, Galati said, his homecoming was not the problem others had, but being a POW left him with an understanding that others might not have.
"It's been said until you've had your freedom denied, only then do you realize what we have in this great country of ours. Freedom has a taste to those who fight and almost die that the protected will never know," he said.
Patrick Hughes, a marine veteran of Vietnam and one of the veterans behind the push to save the monument after it was rediscovered in 2012, said, "Finally, a fitting place was found for this monument to bring meaning to Vietnam vets."
Fellow Marine veteran Chuck "Graves" Roth also said the ceremony was long overdue. "For once, somebody did something they said they were going to do to honor Vietnam veterans."
The monument — a cannon on a stone base — was originally dedicated on Veterans' Day 1966 amid little fanfare. So little that it was only recently when an old newspaper report turned up.
Bill Gafford, the president of the Vietnam Veterans of America Chapter 67, found the article while preparing for the ceremony. Gafford, of Birmingham Township, is an Air Force veteran who served in Vietnam and Thailand during the war.
That story, with no byline, has a photo of the late state Sen. Clarence Bell with Leroy F. F. Wright, the president of the old Delaware County National Bank; Ridley Township resident Lily Mari, the mother of Army Capt. Louis A. Mari; and Mrs. Clifford Dunn, the mother of a Capt. William Carpenter.
Dunn reportedly unveiled the monument's plaque, which reads: "Dedicated to the men of Delaware County for their valiant service in Vietnam."
It also contains part of a quote from Wendell Willkie: "Freedom is an indivisible word. If we want to enjoy it, and fight for it, we must be prepared to extend it to everyone…"
There was no indication of who commissioned the monument or why it was located in a bank parking lot on Route 202.
That bank eventually became a Sovereign Bank and it was there in 2012 when Steve Quigley, of Concord Towing, rediscovered it while cleaning out some brush.
In addition to the monument's history, its future was also a mystery. That original location was going to be the Chadds Ford entrance to the Wegmans supermarket. Where would the monument go?
Peter Miller of Carlino Construction, who developed the site, said the monument would be stored during construction, and then moved to wherever the township wanted it. But the cannon was stolen shortly before work began in 2014.
Carlino commissioned another cannon to save the monument. While the original cannon was stolen, the plaque was saved, and is on the new stone base with the cannon.
When the monument was rediscovered four years ago, many people — including those in the National Park Service — believed it to be the oldest monument to the war. Last year, however, local veterans learned that a monument in Charlottesville, Va., is older by seven months, being dedicated in April of 1966.
A monument in McKeesport, Pa. was also dedicated the same day as Chadds Ford's.

Rich Schwartzman has been reporting on events in the greater Chadds Ford area since September 2001 when he became the founding editor of The Chadds Ford Post. In April 2009 he became managing editor of ChaddsFordLive. He is also an award-winning photographer.
Comments
comments