Days after this past January's blizzard, teams of volunteers fulfilled a federal mandate by canvassing affluent Chester County in search of residents who typically operate below the radar: the homeless.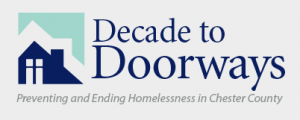 The initiative, called the Point in Time (PIT) Count, found that 682 people lacked permanent shelter on the evening of Jan. 27 into the early morning of Jan. 28, according to a report compiled by the Chester County Department of Community Development. The count, mandated by the U.S. Department of Housing and Urban Development, helps to determine the extent of homelessness throughout the country.
Chester County officials have questioned the accuracy of the snapshot since some individuals manage to find temporary shelter on the coldest nights – which often coincide with the date of the count. And despite eluding canvassers, they still qualify as homeless, defined as individuals and families who are residing in emergency shelters and transitional living facilities, as well as unsheltered individuals on the street or in places not fit for sleeping. Moreover, they still need services.
This year, the county is adding a second tally – and seeking the public's assistance – according to Lauren Hutzel, the administrator of Decade to Doorways, the county's proactive strategy to prevent and end homelessness.
"We are excited to announce that we will be having our first Summer Point-in-Time (PIT) Count on Wednesday, June 22, from 4 to 6 a.m.," said Hutzel in an email. "On that morning, approximately eight teams of four members each will canvass and survey predetermined areas around Chester County for individuals and families experiencing homelessness."
Hutzel said the county hoped that this additional count, which is not mandated by HUD, would provide a more accurate picture of the unsheltered homeless population in the community.
In preparation for this effort, the county is seeking information from residents about anyone who appears to be residing in a vehicle, park, campground, abandoned building, parking garage, wooded area, tent, trail, camper, bus or train station, airport or similar location or on the street.
This information, which officials want to collect by May 20, will help create maps for the street count volunteers who are participating in the 2016 Summer Point-in-Time (PIT) Count, officials said.
The January count generated sobering statistics: five people without shelter, 200 in emergency shelters, 450 in transitional housing, and 27 with motel vouchers. Of the five individuals on the street on a brutally frigid night, two were from Kennett Square, two from Downingtown, and one from Nottingham, officials said.
To provide information needed to help solve this problem, go to http://tinyurl.com/2016SPITClocations. Anyone with questions should contact Gene Suski at 610-344-6900 or chescopit@gmail.com. To learn more about the PIT Count, visit www.chesco.org\ccdcd.
See Contributors Page http://chaddsfordlive.com/writers/
Comments
comments