Days after the January blizzard, teams of volunteers spread out across affluent Chester County, searching for residents who often operate below the radar: the homeless.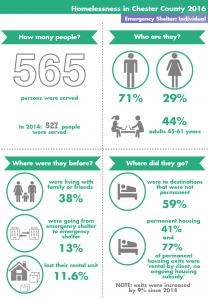 The effort, part of a national initiative called the Point in Time Count, found that 682 people lacked permanent shelter on the evening of Jan. 27 into the early morning of Jan. 28, according to a report compiled by the Chester County Department of Community Development.
The annual Point in Time Count, which is mandated by the U.S. Department of Housing and Urban Development, helps to determine the extent of homelessness throughout the country. The definition of homeless includes individuals and families who are residing in emergency shelters and transitional living facilities, as well as unsheltered individuals on the street or in places not fit for sleeping.
On Thursday, March 24, about 60 stakeholders gathered at Chester County's Government Services Center to hear an assessment of this year's results. The effort is part of a proactive county strategy called "Decade to Doorways: The Community's Plan to Prevent and End Homelessness in Chester County."
Lauren Hutzel, the Decade to Doorways administrator, presented sobering statistics from the count: five people without shelter, 200 in emergency shelters, 450 in transitional housing, and 27 with motel vouchers. Of the five individuals on the street, two were from Kennett Square, two from Downingtown, and one from Nottingham.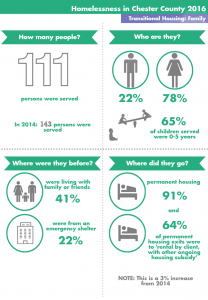 In 2015, 15 people were found on the street, but Gene Suski, community services manager for the Chester County Department of Community Development, said he doesn't believe this year's number necessarily represents a decrease. He said teams saw evidence of makeshift domiciles that were empty.
Suski explained that during exceptionally severe weather, people tend to stay in public places as long as possible. He said many bars and restaurants close at 2 a.m., which is when the count ends. He said some teams stayed out until 2:30 a.m. this year to see if anyone returned to the encampments. Next year, the hours may be extended until 3 a.m., he said.
Although the total number of homeless counted in 2016 rose by 67 from 2015, Hutzel said the increase likely resulted from better tracking. She said some new providers, such as Family Promise of Southern Chester County and Code Blue Ministry in Phoenixville, added information. In addition, the count included people in Open Hearth's Gateway program, an initiative that distributed hotel and motel vouchers.
To humanize the problem, Hutzel distributed cards to members of the audience that contained a photo, a name, and a story for some of the homeless, pointing out that this is not a faceless problem.
For example, 16-year-old Eliza moved to Chester County with her mother when she was 11 after her father had abandoned the family. They moved in with the teen's grandmother; however, when she died, they were evicted because they were not on the lease.
Tallies from the count are included in the Annual Homeless Assessment Report, which is presented annually to Congress. Decade to Doorways began in late 2011 - in response to the count's disturbing data. The program, which forges partnerships among social-service agencies and landlords, resulted in Chester County's Homeless Coordinated Assessment System, "ConnectPoints."
ConnectPoints features contact numbers, including a web site address and a toll-free number, for anyone seeking emergency shelter or housing services in the county. The system cuts through bureaucracy by giving callers one-stop information about all available services.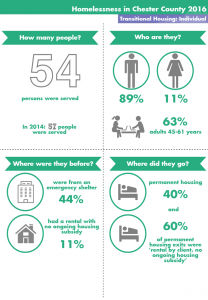 Hutzel said evidence suggests the county is making progress in its efforts to end homelessness. She cited a 9 percent increase in individuals' exits from emergency shelter since 2014.  She described a report from Mo Gillen, executive director of the Veterans Multi-Service Center, that the county is close to "functional zero" in ending veteran homelessness, meaning it has sufficient housing to accommodate homeless veterans.
An even more significant measure of progress, Hutzel said, is the growing collaboration among housing providers. "We're also encouraging churches, police, hospitals, shelters, mental health and drug and alcohol providers and other institutions in each region of our county to come together and figure out how to best serve those in need," she said.
Additional funders, more affordable housing options, and greater community involvement would expedite the inroads, Hutzel said. She encouraged the audience to spread the word about the problem, and to assist, either by donating to those working to end homelessness or by volunteering.
"Don't let it be our best kept secret," Hutzel said of the county's homeless population. "Get involved in helping us to find long- term solutions to this problem. Help us be creative in housing our neighbors."
For more information on Decade to Doorways, visit www.decadetodoorways.org. Officials said a wealth of volunteer opportunities exist, and for those in need of services, the ConnectPoints web site is www.connectpoints.org, and the toll-free phone number is 800-935-3181.

Kathleen Brady Shea, a nearly lifelong area resident, has been reporting on local news for several decades, including 19 years at the Philadelphia Inquirer. She believes that journalists provide a vital watchdog service in the community, and she embraces that commitment. In addition to unearthing news, she also enjoys digging up dirt in her garden, a hobby that frequently fosters Longwood Gardens envy. Along with her husband, Pete, she lives in a historic residence near the Brandywine Battlefield, a property that is also home to a sheep, a goat, and a passel of fish.
Comments
comments