Posted by Rich Schwartzman on May 21st, 2019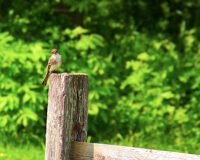 Bird on a post seems to be watching the world with intense curiosity.
Posted by Monica Fragale on May 20th, 2019
Kennett Township supervisors today announced they have fired Township Manager Lisa Moore. Moore, who was township manager since 2010 but had been with the township a lot longer, was first placed on paid administrative leave after the supervisors were notified by a financial institution April 25 of suspicious transactions in their bank accounts. According to an email ...
Posted by Press Release on May 20th, 2019
West Chester University is gearing up to welcome youth from around the region this summer for music and theatre performing arts camps that train, entertain and build lifelong skills. Information and registration for all summer camps can be found here. Music and theatre camps are designed for ages 8 and up and leveled to serve beginners, as well as those who wish to ...
Posted by ChaddsFordLive on May 20th, 2019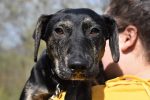 The following animals are ready to be adopted from the Brandywine Valley SPCA in West Chester. Dash Dash is a 7-month-old with soulful eyes. This speckled gentleman loves to spend his day curled up with his sister, Dott, or wagging his tail for every passing visitor. Dash has lived with other dogs and can't wait to meet his forever family. He is available for a fee ...
Posted by Will Stern on May 19th, 2019
As you prepare to visit the Jersey Shore this summer, here's a spiritual lesson you might want to consider. In Luke 6, Jesus tells a parable about two "beachfront" homes. He says, "Why do you call me 'Lord, Lord,' and not do what I tell you? Everyone who comes to me and hears my words and does them, I will show you what he is like: he is like a man building a house, ...
Posted by Rich Schwartzman on May 18th, 2019
The meadow at Chadds Ford Historical Society was alive with music Saturday as the society held its first-ever Valley Jamboree, a two-day music festival. Sunshine and pleasant temperatures blended well with what CFHS President Phyllis Recca called a community event. "We're stressing this is for the community," she said while busy making a last minute check. "It's a ...
Posted by Maria Novak Dugan on May 17th, 2019
There are three key areas of public relations you can use to boost your marketing results 10x over your paid advertising. The key to public relations lies in: Public relation or publicity Merchandising Promotions With a solid plan in place that encompasses all these areas, you'll have a great approach to use your PR in the best way possible. Public relations ...
Posted by ChaddsFordLive on May 17th, 2019
PennDOT has announced the following road projects, which are weather-dependent and could affect residents in the greater Chadds Ford area during the week of May 18-May 24. Motorists are urged to allow extra time if they are traveling through one of the construction zones. Work schedules are subject to change. • A temporary traffic signal is scheduled for a weekday ...
Posted by Rich Schwartzman on May 17th, 2019
As of Oct. 1, 2020, anyone wanting to take a domestic commercial flight in the United States will need some sort of Real ID document. People will also need such a document to enter some federal facilities — not post offices — and nuclear power plants. But not everyone needs a Real ID card. A valid U.S. passport or passport card will suffice. "Your passport is the ...
Posted by Monica Fragale on May 16th, 2019
Kennett Township supervisors continue working to resolve the current financial irregularities in the township's bank accounts and prevent others from happening. And two separate investigations into the matter have begun. It's still unknown how much money was involved and how long the irregularities were going on. Also still to be answered is how the suspicious ...
Posted by ChaddsFordLive on May 16th, 2019
• Pennsylvania State Police from the Media barracks will be conducting a child car seat safety check at the barrack's parking lot on Thursday and Friday, May 23 and 24 from 2-6 p.m. Appointments are required. To make an appointment, phone 610-558-7074 or email jetobin@pa.gov. • The Tim Wadsworth exhibit at Barbara Moore Fine Art has been extended through the end of ...