Chadds Ford Township Republican Party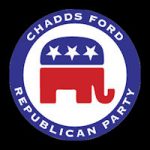 The Chadds Ford Republican Party has a proud tradition of service to the residents of Chadds Ford. It is an inclusive group of concerned citizens dedicated to ethical, intelligent, fiscally responsible government and to maintaining the very special and historical character of Chadds Ford Township.

2019 Endorsed  Candidates 
John Murphy, incumbent U-CF School Director candidate is Chair of the U-CF School District Policy and Legislative Committees, Vice Chair of the Personnel Committee and former Chair of the Communications Committee. John is a West Point graduate with a BS in Civil Engineering and an MBA from the University of Delaware. John was a 9-year commissioned Officer in the US Army Corps of Engineers with several global assignments including leading a platoon in Operation Desert Storm and commanding a company in Fort Lewis, WA. John is a Senior Project Manager at JP Morgan Chase & Co. with previous marketing strategy roles at MBNA America, Bank of America and Corporation Service Company. He is a 14-year resident of Pennsbury Township with 2 children graduates of U-CF schools, and 1 child attending UCF now. John is an active volunteer with the Kennett Area YMCA, the Unionville Recreation Association, various U-CF PTOs and the Ministry of Caring.
Steve Jones, U-CF School Director candidate, is a former 6-year US Navy officer aboard the ballistic missile submarine, Henry L. Stimson. He has worked as an Information Technology consultant for 30 years, and is currently consulting for Fortune 100 companies in computer architecture and systems design. Steve earned a MS Degree in Mathematics and Computer Science from Virginia Polytechnic Institute and consequently has a strong appreciation for STEM education. Steve embraces emerging technologies – computer automation, robotics, artificial intelligence, machine learning and endeavors to facilitate their adoption within the core curriculum in our district. He has been an active volunteer for 6 years with Brandywine Youth Club, Unionville Recreation Association, and Southern Chester County Soccer Association. Steve and his wife, Martina, have one child attending Patton Middle School and one at Chadds Ford Elementary School and have live in Chadds Ford for 8 years.
Jon Trigg, U-CF School Director candidate was instrumental in preventing Chadds Ford Elementary School from closure in 2001 by presenting a very persuasive case to the U-CF School Board, convincing them to renovate rather than close the school. Jon is a co-inventor with four patents and led the creation and roll out of breakthrough products at Dupont, Siemens and Alpha Systems. Currently Jon is Vice President of a not-for-profit organization, the ECRI Institute, which is focused on improving healthcare quality and saving patient lives. He previously was employed by Dupont, Shared Medical Systems and Siemens Medical in a prominent role leading their digital hospital business for the US. Jon is an expert on digital hospitals, speaking on behalf of Siemens' around the country at conferences, events, and on Capitol Hill. John earned a BS in Microbiology from the University of Michigan and an MBA from Pepperdine. Jon would like to share his passion about education and developing our young people combined with his understanding of successfully running large businesses. He is a team oriented collaborative leader, who understands the value of getting to consensus. Jon is father of four U-CF graduates and husband of former U-CF School Board President and Director, Timotha Trigg. They have lived in Chadds Ford for 30 years.
Frank Murphy, incumbent candidate for Chadds Ford Township Supervisor has an amazing list of accomplishments for his 6 years of service to the Township as Supervisor and for the past 5 years as Chairman of the Board. A few of the highlights include a zerotax increase each year, initiating a quarterly newsletter to residents and Twitter and Facebook accounts to keep residents advised on upcoming Township events, and passing ordinances to reduce excessive development and control destructive storm water run-off. To protect the quality of life for our residents, a more restrictive Noise Ordinance and Sign Ordinance, and a Special Events Ordinance were passed. To maintain Chadds Ford's open space and livability the Walkable Chadds Ford project was created and the Harvey Run trail (the Township's first trail) opened.
Swati Patel, candidate for Chadds Ford Township Auditor, is an accountant at BNY Mellon Bank in Wilmington, DE. Swati was born in India, grew up in New York City and moved to Chadds Ford Township with her husband and two children in 2007. This is Swati's first venture into politics. She sees this as an opportunity to give back to the community that she and her family care so much about! Swati enjoys meeting people, cooking, traveling and spending time with her family.
Send Message to listing owner
Please
log in
to be able to send messages to the listing owner.
Comments
comments