SMOKLER – Stan Smokler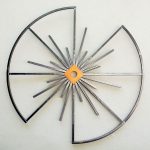 Stan Smokler's steel sculptures recall the visual wit and cunning assemblages of Picasso and Gonzalez, as well as the American voices of David Smith and Richard Stankiewicz. Out of these sources Stan has developed a unique palette, applying industrial cast-offs, "found objects" to create sculptures which deliberately deny their past history in order to serve a new formal purpose.
Send Message to listing owner
Please
log in
to be able to send messages to the listing owner.
Comments
comments