Boom Visibility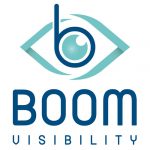 Boom Visibility uses different techniques and SEO to create a larger web presence for your website. Specializing in small businesses, Boom Visibility is there to fill the gap between SEO companies running million dollar campaigns and ineffective SEO programs offered by websites like yellowbook. For so many small businesses they have customers out there, but they cannot find their business. Boom Visibility helps sites get found.
Boom Visibility is an Internet marketing company that specializes in small businesses. It is there to fill the gap between huge and expensive SEO companies and the standard templates offered online. Boom Visibility uses a five step approach to bring more Internet traffic to their clients' websites. First they figure out the client's needs and wants. Then they do research to figure out the best keywords to use in the SEO campaign. Next they do inbound link building; this improves the search engine ranking. The last step is to track, modify and improve the previous steps. Their process has had proven success to bring more traffic to the clients' websites.
Send Message to listing owner
Please
log in
to be able to send messages to the listing owner.
Comments
comments