On Nov. 2, the Chester County History Center premiered the powerful Netflix feature film, Rustin. The film focuses on civil rights activist Bayard Rustin and the iconic Aug. 28, 1963, Washington March for Jobs and Freedom, which he envisioned, organized, and brought to reality.
Born in West Chester in 1912, Bayard Rustin was raised by his maternal grandparents, attended Quaker meetings where he learned the peace testimony, graduated from West Chester High School (later re-named Henderson), and in 1936 attended Cheyney State Teachers College, now Cheyney University.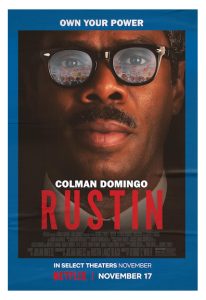 The evening started in the History Center's banquet hall with an hors d'oeuvres buffet, followed by a brief introduction by Rustin's surviving partner, Walter Naegle. It was in 1977 that Rustin met and fell in love with Naegle who was 37 years his junior. He soon realized he needed someone in his life as he grew older. But how was Rustin to protect this relationship decades before the U.S. Supreme Court made same-sex marriages legal?  There was only one thing for him to do - he adopted Naegle.
Speaking to the 235 guests, Naegle said, "Bayard was all about coalition building, building an agenda, and moving forward."
He added that like most Hollywood films, there were inaccuracies, but sang the praises of Colman Domingo who played Rustin saying, "Colman does an excellent job of portraying Bayard."
After the preliminaries, guests proceeded across High Street to the Uptown Knauer Performing Arts Center to view the film in elegant comfort.
The PG-rated Rustin stars an amazing Colman Domingo as the charismatic Bayard Rustin and Aml Ameen as Martin Luther King Jr. We soon learn that it is none other than Rustin who introduces King to the philosophy of Gandhi as well as the Quaker Peace Testimony.
Despite his energy and marketing genius, Rustin, openly gay in the 1960s, was kept in the shadows by the many civil rights organizations and leaders, who availed themselves of his talents but refused to acknowledge him publicly. As he says to a young man who dismisses him as irrelevant, "It's Friday night, I've been called worse."
To make his vision of this historic march a reality, Rustin takes the advice he had given to King, "Own your power," and transforms a run-down, Harlem rowhouse into his headquarters. Here with 200 volunteers, a rank of rotary dial phones and typewriters (this was 1963) Rustin accomplishes the impossible.
I found the final scenes of the movie to be the most heart-wrenching, (spoiler alert) when at the end of the day of speeches and song, as well as King's unifying "I Have a Dream" speech, a jubilant Rustin stands on the steps of the Lincoln Memorial overlooking the sea of people now leaving for their waiting buses. He had hoped for 100,000 people. The official count was 250,000. Rustin is on a cloud, on a spiritual high. His dream of a peaceful march was a resounding success. Within minutes he is told President Kennedy has invited the leaders of the march to the White House, then quietly informed he is not invited.
Rustin understands.
History has been recorded and Rustin deleted.
This film is nothing less than electrifying, from the opening jazz track to the period Motown, Blues, and Gospel pushing the film's frenetic pace and reflecting Rustin's drive.
Rustin premiered at the Telluride Film Festival on Aug. 31, the 60th anniversary of the march, and was released nationwide in select theaters on Nov. 3. The film will be available on Netflix Nov. 17.
You may watch the trailer for the film here. https://youtu.be/4lBqMhZ3NBg?si=KtUQP8haAmrZDINE

Sally Denk Hoey, is a Gemini - one part music and one part history. She holds a masters degree cum laude from the School of Music at West Chester University. She taught 14 years in both public and private school. Her CD "Bard of the Brandywine" was critically received during her almost 30 years as a folk singer. She currently cantors masses at St Agnes Church in West Chester where she also performs with the select Motet Choir. A recognized historian, Sally serves as a judge-captain for the south-east Pennsylvania regionals of the National History Day Competition. She has served as president of the Brandywine Battlefield Park Associates as well as the Sanderson Museum in Chadds Ford where she now curates the violin collection. Sally re-enacted with the 43rd Regiment of Foot and the 2nd Pennsylvania Regiment for 19 years where she interpreted the role of a campfollower at encampments in Valley Forge, Williamsburg, Va., Monmouth, N.J. and Lexington and Concord, Mass. Sally is married to her college classmate, Thomas Hoey, otherwise known as "Mr. Sousa."