Chester County officials are still dealing with the fallout of the Danelo Cavalcante escape. County commissioners, the acting warden, and the director of emergency services told residents basically the same thing Monday night, the county failed the residents.
"We need to regain your trust," said Commissioner Josh Maxwell during a town hall meeting held at Pocopson Elementary School.
"I am sorry for what this community went through for 13 days," said Commissioner Michelle Kichline.
"We let you down," said acting Warden Howard Holland who had been the acting warden for 10 minutes before convicted Cavalcante, a convicted murderer sentenced to life in prison, crab-walked up two walls and escaped from a roof at Chester County Prison the morning of Aug. 31.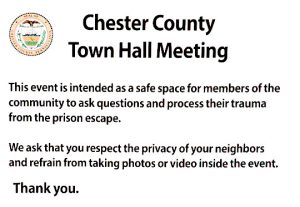 Roughly 200 people attended the meeting held in the school gym. Initially, reporters were not allowed inside but after some vehement protests, county officials decided to allow reporters in, but they were asked not to take any photographs or make any recordings of residents' comments. Reporters were also requested to not question speakers during the meeting.
Holland and Director of Emergency Services Bill Messerschmidt did speak to reporters directly shortly before the meeting began. Holland was asked about the escape and whether anyone had aided the escape in any way. A video of the escape shows a second prisoner off to the right seemingly acting as a possible lookout.
"As far as the investigation, the attorney general is handling that. One thing that you see off camera is that there is a basketball game going on so, in fact, [the other prisoner], could be looking out for Mr. Cavalcante or be participating physically in that activity," Holland said.
He also acknowledged an interesting piece of timing, that the second prisoner walked away as soon as Cavalcante had climbed out of sight and said that is also part of the attorney general's investigation.
He then spoke about "numerous safety enhancements" needed to help prevent future escapes, and he repeated them later during the meeting to help reassure residents that the county is taking this situation seriously.
Most of those enhancements come with technology, he said which includes "the use of drones, detection methods, cameras, canines. So, we'll run the full gamut. We're going to take this facility and make it state of the art."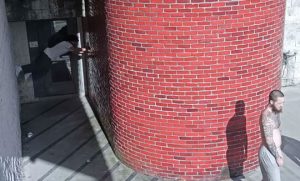 Holland expanded on those comments during the meeting, saying they need to close off the tops of the exercise areas so inmates can't go up and over again. Cavalcante was the second prisoner in three months to escape by climbing up a wall and reaching the roof. Igor Bolte did that in May, but an alert tower guard signaled the escape and Bolte was recaptured in about five minutes.
More razor wire is being added to block off possible escape routes, more surveillance cameras will be in place, and some prisoners will wear GPS tracking devices when out on work detail. A host of other enhancements are also planned, including extra checks on corrections officers to make sure they don't bring in any contraband.
The tower guard overlooking the area where Cavalcante escaped was first placed on administrative leave and then fired. He was found to have had a personal cell phone with him, something he wasn't to have with him while on duty.
He added that they will rethink what clothes are issued to prisoners. They need brighter colors for easier detection, especially when it comes to prisoners considered high risk for escape attempts. And, he added, escape is always on prisoners' minds.
"They have nothing to do except to plan escapes," he said.
One resident questioned the efficacy of the prison siren. She said sometimes it can't be heard, especially since, she said, it sounds a lot like a train whistle.
Holland said he would be willing to meet with her on sight to listen to the siren and maybe the train, too if one is going through the area at the time.
"We take responsibility for what happened here," Holland said. "We take it very seriously."
Another resident asked why a convicted murderer was being housed at a county lockup. Holland explained that the policy comes from the state, not the county. Cavalcante, like other convicted prisoners, remain at the county jail for up to 30 days after sentencing to give them time to appeal the sentence before being sent to a state prison.
Messerschmidt also addressed the issue of the alert system, saying people should sign up for ReadyChesCo alerts, a telephone alert system that functions as a reverse 911 system. Many Southern Chester County residents did receive information that way, but only those who were registered with ReadyChesCo.
He told the audience that not everyone got the alerts at the same time because of something he called "throttling." He said the telephone system can't handle sending out 600,000 reverse 911 calls at one time because the phone system would break down.
Another town hall meeting is scheduled for 7 p.m. Wednesday night, also at Pocopson Elementary School.

Rich Schwartzman has been reporting on events in the greater Chadds Ford area since September 2001 when he became the founding editor of The Chadds Ford Post. In April 2009 he became managing editor of ChaddsFordLive. He is also an award-winning photographer.