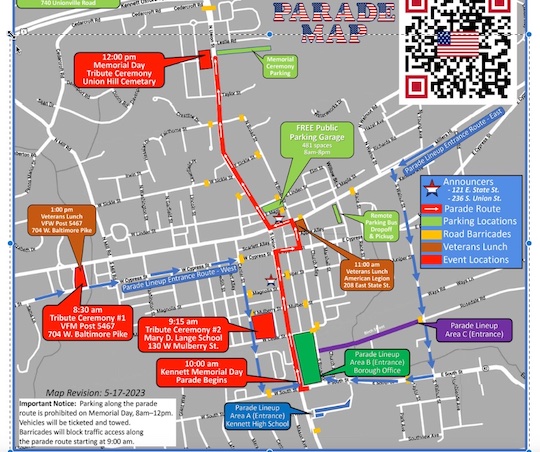 The annual Kennett Square Memorial Day Parade is set for next Monday, May 29 beginning at 10 a.m. Bands, dancers, other performers and honored veterans will step off from Kennett High School, move along South Union Street to East Cypress Street, up the 100 block of South Broad Street, then west on State Street to North Union Street, and on to Union Hill Cemetery, where a memorial service with a 21-gun salute and a wreath-laying ceremony is held.
According to a press release, spectators will also see dancers, classic cars, colorful floats created by various community organizations, historic re-enactors, vintage military equipment, fire trucks, a Viking ship, and more. The parade reflects and celebrates the community's great cultural diversity with participants such as the popular Aztec dancers, charros on horseback, and Chinese folk dancers.
Spectators should be aware of parking regulations before they go. There will be no parking allowed on the parade route, but people can park at the East Linden Street Garage and, new for this year, parking will be permitted at Unionville High School where people can take a free shuttle bus to the parade area.
Specifically, there will be no parking on South Union Street - from South Street to Cypress, on East Cypress Street - from South Union Street to Broad Street, on South Broad Street - from East Cypress Street to East State Street, on East State Street - from Broad Street to Union Street North, and on Union Street - from East State Street to Union Hill Cemetery. Violators will be ticketed and towed, according to borough police.
Those regulations will be in place from 8 a.m. until noon on Monday.
The weather forecast for Monday calls for mostly cloudy skies with a chance of showers; highs in the upper 70s, according to AccuWeather.

Rich Schwartzman has been reporting on events in the greater Chadds Ford area since September 2001 when he became the founding editor of The Chadds Ford Post. In April 2009 he became managing editor of ChaddsFordLive. He is also an award-winning photographer.
Comments
comments