The Brandywine Valley Chorale will present "The Armed Man: A Mass for Peace" by Karl Jenkins on Saturday, April 29 at 7:30 p.m. at Unionville High School. The performance will incorporate music, staging, lighting, and interpretive dance to offer a unique and memorable theatrical experience. Unionville High School Chorale will join the BVC on stage for this performance accompanied by an orchestra.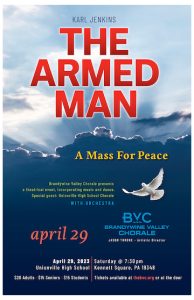 "The Armed Man" reflects on the theme of war and peace. Composed by Sir Karl Jenkins, it was commissioned by the Royal Armouries Museum for the Millennium celebrations in 2000 and has since become one of the most popular choral works of our time.
The piece is a modern-day mass that combines traditional Latin text with poetry from a range of sources, including the Bible and Islamic and Hindu traditions. It is a call for peace, reflecting on the horror and futility of war, and is a poignant reminder of the need for unity and understanding in our world.
"The Armed Man" features a range of musical styles, from medieval chant to contemporary jazz, and is scored for choir, soloists, and orchestra. The work includes powerful moments, such as the "Call to Prayer", the hopeful "Hymn Before Action", the intense "Charge!" and the haunting "Benedictus."
"We are thrilled to be performing this beautiful and powerful work," said Jason Throne, director of the BVC and UHS Chorale. "It is a deeply moving piece that speaks to the universal desire for peace, and we hope that our performance will inspire our audience to reflect on the importance of unity and understanding in our world."
Tickets for the performance are available now and can be purchased at thebvc.org.

Comments
comments