Chadds Ford Business Association members got an update on Hank's Place during the group's April 13 breakfast meeting at the Chadds Ford Township building.
Anthony Young, who co-owns the restaurant with his wife Katie, said they hope to start demolition of the restaurant at Creek Road and Route 1 sometime in May. Flood waters from Hurricane Ida destroyed the iconic eatery on Sept. 1, 2021. The Youngs have been operating in Kennett Square since October of last year.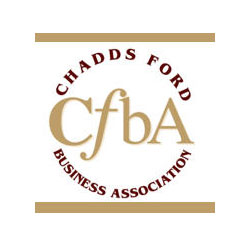 Young said they hope to reopen in Chadds Ford this year and have a grand reopening in time for the winter holiday season. But first, they need to get a new demolition permit because the original permit expired.
The Youngs had received all the necessary approvals to rebuild last year. Those approvals included the demo permit, HARB approval for the proposed new building, zoning relief, and land development.
But a condition of approval included the Youngs getting signed shared parking agreements with two other restaurants in the area. Hank's Place, Antica, and Brandywine Prime had been operating on a gentlemen's agreement to share parking when their lots were full.
The township, however, wanted a more formal written agreement that would be tied to the property deeds and be in perpetuity. Katie Young said the Antica and Prime properties are owned by the Grace family and the family is reluctant to sign because of the permanent nature of the condition.
When asked what the time frame is for reopening, the Youngs said it would take eight to nine months from demolition to reopening, but they need to start in mid-May to open for the holidays.
Other business
Chadds Ford Township Manager Matt Baumann told the CFBA members that a proposed coffee shop on the site of the former First Keystone Bank/Bryn Mawr Trust location in the strip with the U.S. Post Office is scheduled to go back to the Zoning Hearing Board in May.
The applicant needs zoning relief from the township's parking requirements. Township code calls for 143 spaces for all the businesses in that little strip mall, but the township says there are only 79. Another issue is the need to pave the rear area, which may help to resolve the overall parking issue there.

Rich Schwartzman has been reporting on events in the greater Chadds Ford area since September 2001 when he became the founding editor of The Chadds Ford Post. In April 2009 he became managing editor of ChaddsFordLive. He is also an award-winning photographer.
Comments
comments