Barn at Spring Brook Farm at 360 Locust Grove Road in West Chester invites children with disabilities and their families and friends to Spring Fling on Saturday, April 29, from noon to 3 p.m.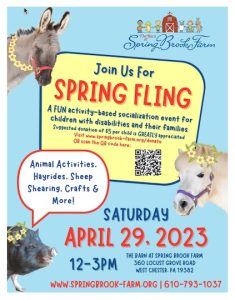 Children can meet The Barn's resident animals; learn about The Barn's programs; take a hayride around the farm; play in the wheelchair-accessible treehouse; participate in crafts and more. All are welcome to bring a snack to share (please no nuts and label food ingredients).
No RSVP is necessary for this event although a minimum donation of $5 per child attending will be appreciated.
"Spring Fling is one of four seasonal socialization events where children with disabilities and their families can see firsthand all The Barn has to offer. It's a great way to check us out before deciding whether to participate in our other programs," said Nan Latona, The Barn's executive director.
The Barn at Spring Brook Farm is a 501(c)(3) non-profit organization located on a 17-acre farm in West Chester. The Barn enriches the developmental skills and lives of children with disabilities ages 2-12 by providing animal-assisted and nature-based experiences that bring joy and inspire them to pursue their best lives. The Barn carries out its mission through several signature programs that take place from March through November: an after-school individual program; Camp Geronimo; educational field trips; and seasonal socialization events.

Comments
comments