Pennsylvania State Police
Media Barracks
• On Feb. 10, state police responded to a call from Garnet Valley High School for a report of a student with a knife. Police determined that a 16-year-old student had brought a pocketknife onto school property.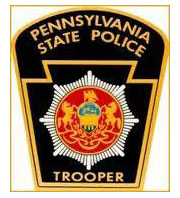 • A Feb. 19 traffic stop on Route 202 in Concord Township led to the DUI arrest of Aliyah Hendrickson, 25, of Brooklyn, N.Y., a police report said. According to the report, police made the stop after observing traffic violations on 202 at its intersection with Route 1. Police said drugs and alcohol were visible in the car. The incident happened at 2:23 a.m.
• David E. Hallberg, 40, of Wilmington, was injured and cited following a one-car crash on Smithbridge Road in Chadds Ford Township on Feb. 20, police said. The report said Hallberg was driving too fast for conditions while heading north in the right lane of Smithbridge Road. The car left the roadway while negotiating a curve and struck an embankment and overturned before crashing into a fence, police said. Riddle EMS took Hallberg to Christiana Care Center for treatment.
• Police said Robert Foxworth, 38, of Havertown, was arrested for a felony violation by driving a vehicle without an ignition interlock. According to the report, police conducted a traffic stop after observing multiple vehicle violations on Route 1 at Schoolhouse Lane in Concord Township on March 6 at 1:34 a.m. Police discovered he has a license requiring him to be driving vehicles with ignition interlocks, but the Chevy Silverado he was driving did not have the interlock device.
• State police said they arrested two women from Delaware for shoplifting at Wegmans in Concord Township on Feb. 16. The report identified the suspects as Alicia Dickerson, 38, of Middletown, and Heather Steele, 39, of Seaford. They allegedly stole 24 items from the store.
• Police said an 82-year-old woman reported having been pickpocketed while shopping at Costco on Feb. 25. Items stolen included the woman's wallet, with driver's license, Medicare and other cards, and $100 in cash. The unknown suspect attempted to use her credit cards, but the transactions had been flagged as fraudulent, the report said.
• Three people from Delaware were arrested for shoplifting at Wegmans on Feb.4. Police identified the suspects as Leslie Brown, 39, of Dover, Dareaus Anderson, 34, of Dover, and Kassidy Webber, 24, also of Dover. The trio allegedly stole 14 items from the store.
Avondale Barracks
• State police from the Avondale barracks are investigating the theft of $2,700 worth of cigarettes from a delivery truck at the Wawa in East Marlborough Township at 11:38 p.m. on March 14. According to the report, two black men pointed a gun at the driver while he was unloading items from his tractor-trailer.
• Police arrested a 73-year-old Kennett Square man for DUI on March. 15. The driver was not identified in the report, but the arrest came at 8:32 p.m. at the intersection of Creek Road and E. South Street.
• Police said Samuel L. Summer, 66, of Lansing, Mich., was cited for speeding in East Marlborough Township on March 15 at 5:16 p.m. following a two-vehicle crash on Route 1 at Schoolhouse Road. The report said Summer was driving a Freightliner truck south on Route 1 when he struck another vehicle that was making a left-hand turn from Schoolhouse onto northbound Route 1, but Summer was driving too fast for conditions and couldn't stop in time. The other driver, a 38-year-old man from Avondale was reportedly injured but he refused transportation.
• Kristine Creglia, 36, of Monroe, N.J., was arrested for public drunkenness in Pocopson Township on March 15, a police report said. The report said Creglia was wandering around property on S. Wawaset Road at 3:41 p.m.
• Police are investigating a theft reported in Pennsbury Township. The report said a 51-year-old woman reported a transfer and withdrawal of $3,280 from an account. No other details were released.
• State police said they cited a female student at Unionville High School for harassment. The action followed a report of a confrontation between two students at UHS. The 15-year-old girl allegedly pushed the other student.
• A 43-year-old man from Louisville, Ky. was arrested in Pennsbury Township for DUI and drug possession. The police report said troopers made the arrest after conducting a traffic stop on a U-Haul box truck at 2:35 a.m. on March 9 on Baltimore Pike. The driver was not identified in the report.

See Contributors Page https://chaddsfordlive.com/writers/
Comments
comments