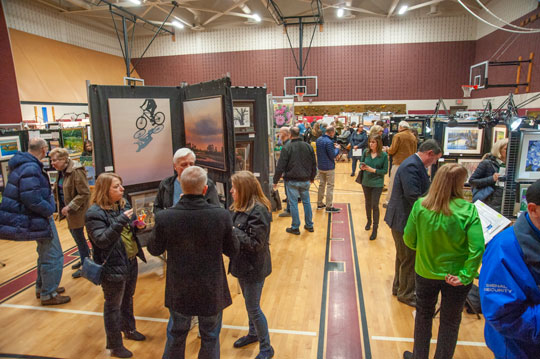 The 74th Chadds Ford Elementary School Art Show and Sale got off to a strong start with people lined up outside waiting for the doors to open. Once inside, they got to see the art of 67 artists, including 10 who had never shown at the event before.
Among the newbies was Matt King who came the farthest to participate. King, originally from Oxford, Pa., has been living in England for the last 12 years. A friend suggested he enter the show, something he was pleased to do because of the show's history. It was the late Betsy Wyeth, Andrew Wyeth's wife, who started the show when their son Jamie was in elementary school in Chadds Ford.
King describes his work as "imagination-based, child-like, simplistic and expressive," a matter of digging into his inner self.
Then there was Morgan Broome, another first-timer whose work is far beyond just drawing and painting. She describes her work as "textured abstract," a mixed media style that includes glass, sand, and crushed stone.
"I'm inspired by nature," Broome said. "It has a lot of texture and I'm mimicking nature."
Another newbie to the CFES Art Show was Jill Pearson. Pearson is from Downingtown and has kids in that school district. She jokingly said she felt like she was cheating on the Downingtown PTO but said she's like to start a similar event there.
"It's a great idea, having art support the PTO.
Along with the new people, were perennial participants such as Nicki Wandersee, Karl Kuerner, Annette Alessi, Barbara Tlush, Don Shoffner, Jacalyn Beam, and Steve Brehm.
While Brehm has shown at the school before, this was his second time as the featured artist.
He said the show has a "great following. Patrons support the school and there's good energy."
The annual event is the largest fundraiser the CFES PTO has. It brought in $70,000 last year and John Mitchell, who did publicity for the show these last two years, said the PTO is hoping to bring in six figures, $100,000 this year.

Rich Schwartzman has been reporting on events in the greater Chadds Ford area since September 2001 when he became the founding editor of The Chadds Ford Post. In April 2009 he became managing editor of ChaddsFordLive. He is also an award-winning photographer.
Comments
comments