Pennsylvania State Police
Media Barracks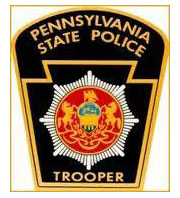 • Police said they would be conducting an Operation Checkpoint on Friday, March 17, in Middletown Township.
• State police from the Media barracks are investigating a report of child sexual abuse. A report said police were dispatched to Garnet Valley Elementary School for possible indecent and sexually explicit photos on a student's iPad found by school staff. The iPad was seized, and the photo was subsequently deleted. The incident took place on March 1.
• A police report said Lisa Scott, 41, of Newtown Square, was arrested for DUI in Chadds Ford Township on Feb. 6. The incident happened on Route 202 at Oakland Road. According to police, Scott was driving south on 202 when she was pulled over for speeding. It was determined that Scott had consumed alcohol at a restaurant in King of Prussia and that she was DUI, the report said.
• Police are investigating the theft of catalytic converters from two vehicles at Concordville Subaru. The theft took place on Jan. 21. According to the police report, two suspicious individuals were on the property shortly after midnight, but the two had already fled by the time troopers arrived.
Avondale Barracks
• State police said a 52-year-old Chadds Ford woman, unidentified in the report, was arrested for striking a state trooper following a traffic stop in New Garden Township. Police said the woman was a passenger in the car that was stopped on W. Cypress Street near Scarlet Road at 10:43 p.m. on March 10. According to the report, the woman exited the vehicle, but then struck a trooper who was asking her to get back into the car.
• A 58-year-old woman from Pennsbury was the victim of a scam, according to police. The report said the victim had been contacted by someone claiming to be from Xfinity who said they could give her a 50 percent off deal if the woman sent them money in Target gift cards. The woman sent the cards, but then realized she had been scammed.
• Bradley J. Bungo, 44, of West Chester was cited for his involvement in a two-car crash in East Marlborough Township on March 9, a police report said. The incident happened at 5:06 p.m. on Wollaston Road at its intersection with W. Street Road. The report said Bungo had brought his vehicle to a complete stop at the stop sign on Wollaston but failed to clear all lanes of travel before making a left turn onto W. Street Road and crashing into an oncoming car. Police reported no injuries.
• Police from the Avondale barracks are investigating a reported theft in East Marlborough. Township. Few details were released, but the victim claims to have given the suspect $40,000 in cash to keep in a safe for two years, but the suspect spent the money.

See Contributors Page https://chaddsfordlive.com/writers/
Comments
comments