Pennsylvania State Police
Avondale Barracks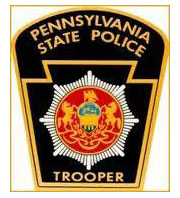 • Police are investigating the theft of a reported $450 from the Dunkin Donuts on Baltimore Pike in East Marlboro Township on Nov. 21. Someone broke a window at the store and took the $450 worth of wrapped coins.
• A father dropped a dime on his 47-year-old son for violating a protection from abuse order. Police said they were called to a residence on Byrd Road in East Marlborough Township on Nov. 19 after the father saw his son asleep inside his vehicle at the residence. The PFA makes it illegal for the son to be at the residence.
• A 36-year-old man from Coatesville – not identified in the report – was arrested for DUI following a one-vehicle crash in East Marlborough Township on Nov. 15. The accident happened at 2:59 a.m. on E. Doe Run Road at Marlboro Road.
• Police said a 29-year-old woman was arrested for public drunkenness and, in the process, kicked a state trooper in the groin. The report said troopers were responding to a call about a woman walking on Route 52 near Route 926. When police arrived, she was sitting in dirt and leaves and refused to identify herself. She was placed under arrest for being drunk in public, and then she kicked the trooper. The incident happened on Oct. 29 at 12:46 a.m.
• Two unidentified males are being sought in connection with the theft of $300 worth of shoes from Famous Footwear in East Marlborough Township. The police report said the incident happened on Nov. 14. There were no descriptions of the suspects, but the report said they fled in a silver Nissan Sentra with Delaware tag number 117329.
•Troopers from the Avondale barracks are investigating a crime-by-deception case on Crosslands Drive. A report said an 88-year-old man gave gift card information over the phone and had $12,500 stolen. The incident happened between Oct. 16 and Nov. 13, according to police.
• Police said Christopher W. Carlin, 18, of Landenberg, was cited for driving too fast for conditions after he failed to negotiate a left curve and struck a tree. The incident happened on Lenape Road near Wayne Drive in Pocopson Township on Nov. 15 at 8 a.m.
• State police arrested a 17-year-old male from West Grove on DUI charges after troopers observed the vehicle he was driving swerving in and out of his traffic lane. When troopers approached, the report said, the odor of alcohol was detected. Field sobriety tests were administered and the driver was taken into custody.
• Police said Tiffany A. Sullivan, 33, of Coatesville was cited for several traffic violations — including careless driving — following a one-car crash in Newlin Township on Oct. 14. According to the police report, Sullivan ran off Embreeville Road and struck a utility pole.
• State police arrested three Wilmington residents, a 46-year-old man, and two women, 22 and 27 years of age, on shoplifting charges. The report said the trio took $782 worth of merchandise from the East Marlborough Township Wawa on Oct. 8.

See Contributors Page https://chaddsfordlive.com/writers/
Comments
comments