Art events are in full swing throughout the region! Take advantage of the beautiful fall weather and explore all the exhibitions, fests, and fairs this November in the Brandywine Valley. Check websites and social media for updated health and safety measures for each venue.
Is there anything better than rambling through a big old building full of treasures? Aston Mill Arts (formerly Heron Studios/Heron Crest Studios) has something for every art lover at their Fine Art Show. November 12th, 13th, 19th, and 20th, from 11 am to 5 pm, over thirty artists will be displaying their works in studios and galleries throughout the building. Aston Mill Arts is located at 3100 Mount Road, Aston, PA 19014. More information about both the show and the studios can be found at AstonMillArts.com.
Layers of art history combine at the new show at the Church Street Gallery. Martin Campos returns with his figurative oils, joined by the Baroque- Rococo-inspired enchanting paintings from Victoria Koursaros, who is showing at the gallery for the first time.  Explore this gallery and others during First Friday in West Chester. The Church Street Gallery is at 12 S. Church Street, West Chester, PA. More information can be found at ChurchStreetGalleryWC.com.
Media Arts Council presents another set of innovative exhibitions through November. Open from November 4th through November 27th, you can see Light after the Storm by Matiko Mamaladze, Winter's Edge: Paintings of Iceland by Carrie Barcomb, Healing by Laurie Doran, and the Aston Mill Arts Group Show. An Opening Reception will be held Friday, November 4th from 5 to 7 pm. The MAC Arts Center is located at 11 E. State Street, Media, PA. More information can be found at MediaArtsCouncil.org.
The Chester County Art Association brings works from over a hundred artists from The Philadelphia Water Color Society throughout their galleries from November 1st through November 30th. An Opening Reception will be held Sunday, November 6th from 5 to 7 pm. A Jewelry Showcase will be held in the ShopArt store in the CCAA through November as well. The CCAA is located at 100 North Bradford Avenue, West Chester, PA. More information can be found at ChesterCountyArts.org.
Start the season off cheerfully at the Home for the Holidays Outdoor Artisan Craft Market at The Main Line Art Center on Sunday, November 20th from 11 to 4 pm. While you are there, don't miss INTICACY: The 19th Annual Betsy Meyer Memorial Exhibition, on view November 11th to December 22nd. Featuring artists Becca Barolli, Agathe Bouton, and Eric Stanley, all presenting works in different mediums, the visually stunning show is juried by Susanna Gold. An opening reception on November 12th from 6 to 8 pm (prior registration required) will feature artist talks, music, and refreshments. The Main Line Art Center is located at 746 Panmure Road, Haverford, PA. More information can be found at MainLineArt.org.
Welcome solo shows back to The Station Gallery after a two-year hiatus at the Opening Reception for Sunlight Event, a new exhibition by Michele Green, on Friday, November 4th from 5 to 8 pm. The exhibition is on view from November 4th through the 26th. The Station Gallery is located at 3922 Kennett Pike, Greenville, DE. More information can be found at StationGallery.net.
Take a walk around campus to see the art exhibitions at West Chester University. The Knauer Art Gallery is showing the WWII Poster Show from November 7th to December 19th, with an Opening Reception on November 10th. In the John H. Baker Gallery in the E. O. Bull Center for the Arts, there is a dynamic, Not That Brandywine Tradition shows a new perspective through December 9th. The E. O. Bull Center for the Arts is located at 2 E. Rosedale Avenue, West Chester, PA. For more information, check WCUPA.edu/arts-humanities/artdesign and on Instagram @artsatwcu.
Autumn Splendor is shown in all its artistic glory at the Square Pear Gallery, with works by over a dozen local artists. The Square Pear Gallery is located at 200 East State Street, Kennett Square, PA. More information can be found at SquarePearGallery.com.
Drop by the David Katz Gallery during First Friday in Downtown West Chester from 5 to 9 pm to see new works, including from their popular Cloud Formations series. The David Katz Gallery is located at 128 East Gay Street, West Chester, PA. More information can be found at DavidKatzGallery.com.
Fragile Earth: The Naturalist Impulse in Contemporary Art is on view in two galleries at the Brandywine River Museum of Art through January 8th. This exhibition examines the fragility of the environment and our relationship with it through works by Mark Dion, Courtney Mattison, and others. It will include a site-specific installation and a commissioned mural that relates to the native flora and fauna of the Brandywine Valley. Plus the famous Brandywine Railroad returns November 19th through January 8th for its Fiftieth Year! The Brandywine River Museum is located at 1 Hoffman's Mill Road, Chadds Ford, PA. More information can be found online at Brandywine.org/Museum.
The Wild Clay Exhibit opens at The Art Trust September 28th and runs through November 4th. Featuring the work of Gerald Brown, Sam Diamond, and Austin Takashi Jefferson, and curated by Andrew Snyder, all objects are made with clay harvested from local sources. An Artists' Talk will be held on Thursday, November 3rd from 7 to 8 pm. The Art Trust is located at 16 West Market Street, West Chester, PA. More information can be found at TheArtTrust.org.
Non-profits take the spotlight at the Oxford Arts Alliance for their First Friday The Great Give on November 4th. There will be a pumpkin carving contest and more. Also on November 4th from 5 to 8 pm is the opening for Perceptual Bodies, a solo show by Lillie Spotts in The Emerging Artist Gallery, on view until December 16th. The Oxford Arts Alliance is at 38 S. Third Street, Oxford, PA. More information can be found at OxfordArt.org.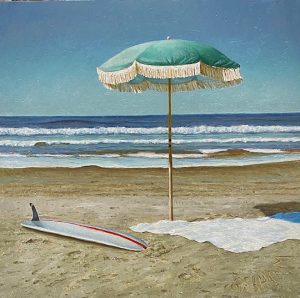 Step outside at Gallery 222 with all new work from artists Randall Graham and Elise Phillips. See the artwork in person at the Opening Reception Thursday, November 10th from 5:30 to 8 pm. The show is on view November 10th until November 26th. Gallery 222 is located at 222 East King Street, Malvern, PA. More information can be found at Gallery222Malvern.com.
A Retrospective Show of Doris Davis-Glackin is on view at the Howard Pyle Studio, along with new artwork by Members of the Studio Group. A reception will be held Friday, November 4th from 5 to 7:30 pm. A long-time member of the Studio Group, Davis-Glackin's watercolor paintings have been exhibited in museums and other locations throughout the world. Live music and refreshments will be provided Friday evening during the monthly Wilmington Art Loop. The Howard Pyle Studio is located at 1305 North Franklin Street, Wilmington, DE. More information can be found at HowardPyleStudio.org. The Wilmington Art Loop is held every First Friday in Downtown Wilmington. A complimentary shuttle will run between the stops from The Delaware Contemporary, 200 South Madison Street, Wilmington, DE, DEContemporary.org. More information, including all the stops and featured artists and shows on the Loop, can be found at ArtLoopWilmington.org.
Looking for more events happening through the month? Check out @BrandywineArtGuide on Instagram and Facebook!

Victoria Rose (she/her) is an editor, writer, avid reader, self-described geek, and fan of all things creative. Her passion for words has led to her current career as a freelance editor, and she is the owner of Flickering Words, an editing service. When not wielding a red pen (or cursor), she loves reading books of all genres, playing video, board, and word games, baking ridiculous creations to show off on the internet, or enjoying the gorgeous outdoors. She is a board member of the West Chester Film Festival and part of the Thirsty Monsters, a team of streamers from around the world who fundraise for various charities supporting LGBTQIA+ and accessibility rights. She can be found online @WordsFlickering or the Brandywine Art Guide @BrandywineArtGuide.