Pennsylvania State Police
Media Barracks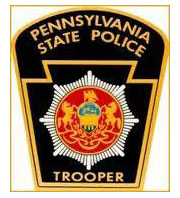 • An unidentified driver was cited for failing to stop at a stop sign at Applied Bank Boulevard and Wegmans Access Road on Sept.19, and struck another vehicle.
• Someone stole a catalytic converter from a box truck parked in a lot ate 35 Lucre Avenue in Concord on Oct. 1. The value of the converter is $4,091.
• Police said Charles C. Campbell, 64, of Chadds Ford, was cited after he backed into a group of mailboxes on Ardmoor Lane in Chadds Ford. According to the police report, a witness identified him as a neighbor on Ardmoor, and saw him fleeing the scene. Police tracked him down through vehicle registration, the report said, adding he never admitted to being in the crash. Campbell denies hitting the boxes and also denies he was cited, though the police report does say he was charged in the Sept. 10 incident.
Avondale Barracks
• Police said a Pennsbury resident reported a theft of men's watches sometime between Sept. 14 and 22. The victim, a 46-year-old man, reported the theft on Sept. 28. According to the police press release, a package with the watches were listed as delivered but never received. The reported value is $536.
• State police arrested a 37-year-old Philadelphia man, not identified, for shoplifting at the East Marlborough Township Walmart on Oct. 12. The suspect reportedly tried to get away with $250 worth of vehicle parts and accessories.

See Contributors Page https://chaddsfordlive.com/writers/
Comments
comments