Pennsylvania State Police
Media Barracks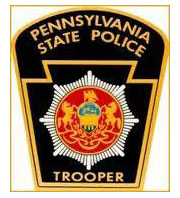 • State police arrested a 30-year-old man from Philadelphia for shoplifting from the Target store in Concord Township on Sept. 12. The suspect, not named in the report, is alleged to have fled the store with more than $700 worth of mixed electronic merchandise. Police said the man fled in a silver Nissan Sentra with no tags but located the car anyway at Evergreen and Town Centre drives. They initiated a traffic stop and arrested the suspect.
• Someone smashed the right rear window of a car parked at the old Concord Dog Park on Bethel Road and stole a $500 purse. The incident happened on Sept. 22 at 6:25 p.m.
Avondale Barracks
• A one-car crash ended a high-speed incident and led to the arrest of a 20-tear-old man from West Grove. Police didn't name the suspect but said he had been driving a 2008 BMW at 130 mph on Route 1. Troopers pursued, but the driver attempted to elude police before crashing on Route 82 at Gatehouse Drive in East Marlborough Township. Police said the driver showed signs of impairment and that they saw drugs and paraphernalia in plain view inside the car. The incident happened at 6:15 p.m. on Thursday, Sept. 29.
• Police arrested a 38-year-old man from Thorndale after he reportedly stole a $9.88 Powerbank from the East Marlborough Walmart on Sept. 28. Police did not identify the suspect in the report.
• State police said they initiated a traffic stop on a vehicle driven at an excessive rate of speed and wound up arresting the driver for drug possession. The incident happened on Route 1 at N. Union Street in East Marlborough Township at 8:07 p.m. on Sept. 20. The driver was only identified as a 48-year-old man from Garnet Valley. In addition to drugs and paraphernalia, police said they also found a loaded and concealed firearm.
• A police report said a 20-year-old man from Conshohocken was arrested for shoplifting at the East Marlborough Township Walmart on Sept. 26. Few details were released, other than the time of the incident — 3:39 p.m. — and that the value of the items was $579.
• Police said they arrested a 23-year-old man from Avondale on drug possession charges following a traffic stop in Kennett Township. The incident happened at 1:26 a.m. at Millers Hill and Ways Lane. A report said troopers stopped the 2012 Nissan Rogue for vehicle violations and that the driver showed indications of impairment. The driver was taken into custody and a search resulted in police finding a bag of what they believe was cocaine.
• A traffic stop because of a malfunctioning brake light led to the arrest in Kennett Square of a 39-year-old woman from Wilmington on DUI charges. The incident happened at 10:54 p.m. on Sept. 22, at the intersection of S. Union and W. Mulberry streets.
• Police said they arrested a 48-year-old Wilmington woman for assaulting a 70-year-old woman in Pennsbury Township. No details of the assault were provided, but the incident happened on Brintons Bridge Road at 1:33 a.m. on Sept. 24.
• Nicole A. Schlosser, 44, of Cochranville, was charged with DUI following a one-car crash on W. Street Road in West Marlborough Township shortly before 10 p.m. on Sept. 24, according to police. The report said Schlosser's vehicle left the roadway and struck a pole when she failed to negotiate a left curve safely.
• State police said Alicia Delvalle,35, of West Grove, was cited for failing to stay in her traffic lane after she swerved to avoid hitting a squirrel on N. Chatham Road in West Marlborough Township. The incident happened at 5:43 p.m. on Sept. 19. According to the report, the 2011 Cadillac SRX Delvalle was driving struck a tree and overturned. Police reported no injuries.
• Police are investigating a reported case of forgery. A report said someone forged a check and withdrew more than 9,700 from the bank account of a 52-year man in Pocopson Township.

See Contributors Page https://chaddsfordlive.com/writers/
Comments
comments