This is the second part of a series which follows along as Painter's Folly in Chadds Ford is restored, updated, and converted to a space celebrating both the past and future of art in the Brandywine Valley. Each article will explore a different aspect of the location and the renovation process, from its history to its use as artistic inspiration to its new purpose.
When Samuel Painter began work on his Italianate-style home in Chadds Ford, Pennsylvania, neighbors laughed at the unusual architectural style. It certainly stood out among the barns and stone farmhouses scattered among the local countryside. It became so well known by the mocking name "Painter's Folly" that the title has stood for 165 years. Those neighbors would never have imagined that not only would the home come to be considered an architectural treasure, it would become known for the many painters which it has housed, comforted, and inspired.
By 1900, Howard Pyle had been working professionally as an illustrator for over two decades. His works were regularly seen in magazines such as Scribner's Monthly and Harper's Weekly. After a few years of pursuing regular work in New York, where he was encouraged by other working artists, he returned to his hometown of Wilmington, Delaware in 1880. From there, he continued to illustrate series for magazines and collaborated on books, including The Merry Adventures of Robin Hood, one of his most famous works.
After spending most of the 1890s teaching illustration at the Drexel Institute in Philadelphia, while also continuing to work as an illustrator on his own, Pyle sought new inspiration. He turned to the rolling hills of the Brandywine Valley and chose Painter's Folly as his summer home, as well as a place to instruct artists in his "Brandywine School." Ten of his most promising students from Drexel were invited for the summers and given scholarships to cover tuition, board, and lodging.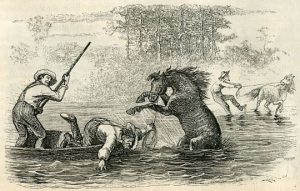 Pyle and his family lived in the home, known also as the "Big White House." Students stayed in two farmhouses on what is now the Brandywine Battlefield State Park. The men stayed in the Ring House, originally owned by local mill owner and Quaker farmer Benjamin Ring, which became Washington's Headquarters during the Battle of the Brandywine. Women students stayed in the Gilpin House, originally owned by Quaker farmer Gideon Gilpin. After the war, Gilpin ran a tavern out of the home, much of the farm having been devastated by the battle or plundered by soldiers afterwards. It was called Lafayette's Headquarters, though there has been recent discussion over whether Lafayette ever used the place as his headquarters during the war. It does seem that he stayed in the home, as he returned decades later to thank Gilpin for his hospitality during the battle.
The actual Brandywine School was a short walk away, though today that would include a quick and careful crossing of busy Route 1/Baltimore Pike. Turner's Mill was an old grist mill that, by the time Pyle rented it, was no longer used. It's ivy-covered walls offered pastoral beauty to students, many who came from the city. Although the official title was the "Drexel Institute Summer School of Illustration," most knew it as the "Chadds Ford School" or the "Brandywine School."
Pyle took over the top floor for his own studio, while the students worked on the first. Turner's Mill was a much different location than what most students were used to. On fine days, they would take their easels outside and work in the sunshine, creating beautiful en plein air landscapes. Pyle enforced a rigid painting schedule from 8 a.m. to 5 p.m. However, once they were done for the day, the students were often seen riding bicycles along the country lanes, playing in the grounds of the old mill, or exploring the countryside.
There was more happening as Pyle and his students at the Brandywine School painted, illustrated, and collaborated, creating what would endure as the Brandywine Tradition of Art. That, however, will will be included the next part of this series.

Victoria Rose (she/her) is an editor, writer, avid reader, self-described geek, and fan of all things creative. Her passion for words has led to her current career as a freelance editor, and she is the owner of Flickering Words, an editing service. When not wielding a red pen (or cursor), she loves reading books of all genres, playing video, board, and word games, baking ridiculous creations to show off on the internet, or enjoying the gorgeous outdoors. She is a board member of the West Chester Film Festival and part of the Thirsty Monsters, a team of streamers from around the world who fundraise for various charities supporting LGBTQIA+ and accessibility rights. She can be found online @WordsFlickering or the Brandywine Art Guide @BrandywineArtGuide.
Comments
comments