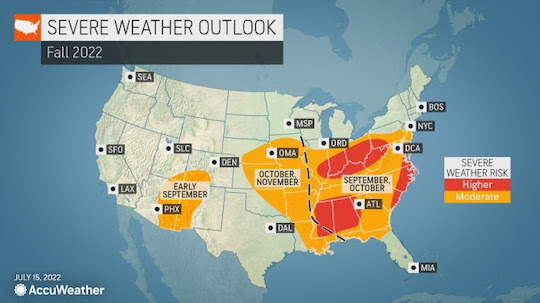 As the saying goes, it's not the heat, it's the humidity. This summer, it's been both. While other parts of the country have had a harsher summer, it's also been hot, sticky, and uncomfortable in the Delaware Valley. And that discomfort will remain a while longer. The current heat wave is expected to last at least through the weekend.
But AccuWeather is looking ahead to autumn. What is that organization predicting?
According to veteran forecaster Paul Pastelok, "With pretty good confidence this year, I think it's a mild fall setting up overall for the U.S."
AccuWeather looks at meteorological autumn, which runs from Sept. 1 through Nov. 30.
"As the calendar flips from August to September, millions of residents across the Midwest and Northeast might not feel much of a change as summerlike warmth extends its stay over the region, but big changes are in the offing with the arrival of October."
The email from the forecasting organization went on to say that widespread warmth could delay the peak fall foliage, but the wait could be worth it "as vibrant colors are likely to unfold on the hillsides across most of the Northeast."
AccuWeather also predicts stormy weather arriving in late October, with the first snowflakes falling in November.
As for the immediate future, hazy, hot, and humid conditions continue with temperatures in the upper 80s and 90s and with heat indexes up to 100 or more.

Rich Schwartzman has been reporting on events in the greater Chadds Ford area since September 2001 when he became the founding editor of The Chadds Ford Post. In April 2009 he became managing editor of ChaddsFordLive. He is also an award-winning photographer.
Comments
comments