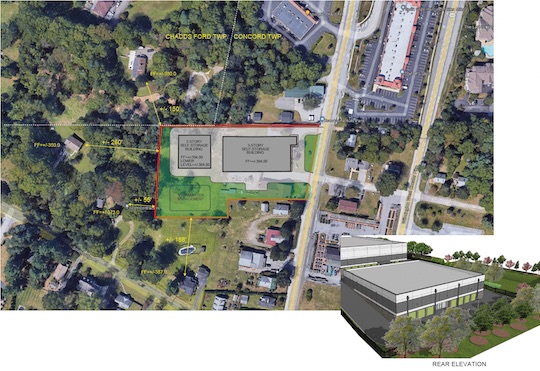 A proposed self-storage facility is one step closer to reality after Concord Township Council granted conditional use approval for the plan during its Aug. 2 meeting. Even with the conditional use approval, the plan must still go through land development with the Planning Commission and then get final approval from the council.
The applicant, Premiere A-2 Storage, wants to construct two buildings at 366 Wilmington Pike (Route 202). The site is on the west side of the road, just north of Smithbridge Road.
Of the two buildings, one would be roughly 76,728 square feet and stand three stories tall; the other, two stories tall, would be 23,532 square feet. The conditional approval came with 33 conditions.
In addition to the general housekeeping conditions regarding compliance with all township codes, there may be no outdoor speakers, and retail sales for items associated with storage—tapes, boxes, locks, and plastic wraps— are permitted if the retail sales area is no larger than 800 square feet. The facility may not sell items not related to self-storage. Indoor and outdoor security cameras are required and must cover the entire facility, 24 hours per day, seven days per week. There may not be any overnight parking, nor may there be any storage of flammable or hazardous materials.
A plethora of other conditions deal with lighting, a buffer using an existing tree canopy, and a 30-foot-wide vegetation berm buffer. Fencing will be addressed during land development. The hours of operation are limited to 6 a.m. to 10 p.m., and access shall be right in/right out only.
• Township engineer Nate Cline updated the council and the public on upgrades to the intersection of Route 1 and Schoolhouse Lane. Those upgrades include changes to the intersections of Route 1 with Cheyney and Stoneybank roads. He said the improvements at the Cheyney Road intersection are finished but that the improvements to Stioneybank are still pending. He added that once that work is finished, along with the left turn restriction from Route 1 to Schoolhouse, the township will begin work on a deceleration lane on Route 1 for safer right turns onto Schoolhouse Lane.
• Concord's next Concert in the Park is on Aug. 11, featuring Homegrown String Band. The next Movie in the Park is scheduled for Aug. 19 with "Godzilla vs. Kong."

See Contributors Page https://chaddsfordlive.com/writers/
Comments
comments