Pennsylvania State Police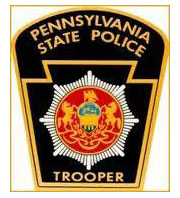 Media Barracks
• Police are investigating a case of identity theft. On July 21, state police from the Media barracks were alerted to a situation where a 61-year-old woman reported someone had used her name and work address to buy prescription pills.
• Two men, a 20-year-old from Upper Darby and a 54-year-old from Philadelphia, were arrested on June 30 on harassment charges. Police had been called to assist EMS personnel in treating a subject with head injuries. Investigation revealed that the two men had gotten into a fight. Neither man was named in the police report.
• Police said a 32-year-old woman from Chadds Ford was the victim of an indecent assault. Police are investigating and did not name the suspect, though the report said he is known. The incident reportedly happened in February.
• State police from the Media barracks said they arrested a 38-year-old man — not identified in the report — on shoplifting charges after stealing $410 worth of merchandise from the Wegmans in Concord Township. The merchandise was recovered when police apprehended the suspect at a nearby location, the report said. The incident happened shortly after 2 p.m. on July 22.
• Police said a Concord Township resident was scammed out of $1,200 by someone impersonating a U.S. Marshall. No details of the incident were in the report.
• Sharma Patterson, 40, of Drexel Hill, was cited following a two-car crash at Cheyney Road and Schoolhouse Lane in Concord Township on July 19, according to a police report. Police said Patterson was driving west on Schoolhouse when she attempted to go through the intersection without enough clearance. As a result, police said, she collided with another car, striking it in its 2 o'clock position. No injuries were reported.
• Police said Benjamin Ricker, 21, of Malvern, was arrested on criminal mischief charges in Concord Township on July 2. The report said Ricker was intoxicated at a graduation party, causing a disturbance. He then tried to enter a neighboring home forcibly and later became abusive with troopers. Police charged him with criminal mischief, damage to property, simple assault, harassment, public drunkenness, disorderly conduct, resisting arrest, and terroristic threats.
Avondale Barracks
• Police from the Avondale barracks said they arrested a 23-year-old man for DUI and drug possession in Birmingham Township on July 12. The report did not mention the suspect's name but said he was stopped for a vehicle code violation. During the investigation, the report said, troopers determined that the man was DUI of a controlled substance found in the car.
• Police are investigating the reported theft of $50 worth of food items from the East Marlborough Township Wawa on Route 1.
• Troopers from the Avondale barracks are investigating the reported theft of drugs from the Pocopson Veterinary Station on Street Road in June.
• Hugo Sanchez-Mercado, 33, of West Chester, was cited following a one-car crash in West Marlborough Township on July 14, police said. According to the report, Sanchez-Mercado was driving north on Route 82 when he veered off the road at a curve and went into a ditch.

See Contributors Page https://chaddsfordlive.com/writers/
Comments
comments