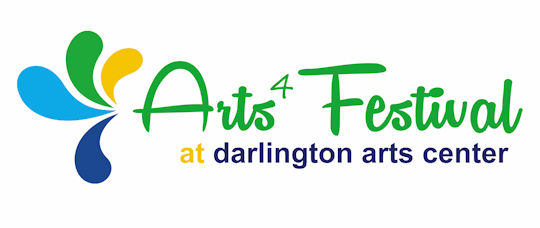 The Brandywine Valley is lucky to have so many fantastic venues for not just showcasing art, but also places where students young and old can learn about the many facets of artistic expression. The Darlington Center for the Arts located in Garnet Valley takes this task to heart, creating a space where every form of art takes a turn at center stage. Darlington is currently celebrating the creations, hard work, and talent of their community with the 4 Arts Festival, featuring a gallery show, concerts, performances, and more through June 12th.
Darlington has intentionally created a welcoming space for students of all ages, experience, and ability. "Our mission is to build community by providing Every Art for Everyone," says Emily Moylan, Community Engagement Manager. "Not only do we provide quality arts instruction in all four major art forms for all ages and abilities, but we are also focused on connecting and engaging with our community through artmaking."
Kate McGrath, Teaching Artist (Drama), notes, "Darlington has a unique way of feeling both big and small to our students: big in that the classes, camps, and other programming expand their opportunities, allowing them to try new things, and explore their talents, which the rest of the world can then enjoy. Small in the sense that everyone at Darlington is focused and devoted to the arts and so a kindred soul."
Darlington serves as a center for many local artists, whether they teach, participate in the shows, or simply visit. "I am always in awe of the range of talent we have in and around the Brandywine Valley," Moylan says. "We just recently had our Juried Art Show and finished up our Coffee House Concert Series, where we had the pleasure of featuring some of these artists."
The fun doesn't end at the front door. Darlington's events expand out through the Brandywine Valley. "I'm looking forward especially to the Summer Concert Series at Smithbridge Park on Thursdays," McGrath says. "I drive by the park every day and can't wait to lie on the grass and enjoy live music." Held every other Thursday evening from June 30th through September 10th, this popular series includes a variety of musical acts, from jazz to cabaret to rock and pop.
The 4 Arts Festival also welcomes the public to see the rising talent of the next generation. Moylan is eager to share all the details: "Our dance recital at Cab Calloway School of the Arts is next on the docket! We are so excited to be featuring over 50 dancers this year in many different disciplines." Or you can look for future marquee names on the stage. "Final performances for the drama classes for kids will be held on June 6 and 7," McGrath notes. "They will be livestreamed and are a great way to see what the Drama programming is like for young people at Darlington!"
Back at Darlington, art is on display in every medium from both students and their instructors. "I've seen some great work come out of our Comics and Cartoons, STEAM, and Drawing and Painting classes," Moylan says. The gallery showcases their work throughout Darlington as part of the 4 Arts Festival.
It is exhilarating for all—students, instructors, families, friends, and visitors—to be able to be back in person this year. "The 4 Arts Festival is all about celebration and community," Moylan says. "We are so excited to welcome people back into the Center to cheer on our students as they showcase their progress over the Academic Year."
The public is welcome to visit Darlington to see the Gallery Show during their normal business hours, and also invited to all events and performances. "We encourage anyone who supports the arts to come out and see how incredible our students are," invites Moylan. "We could not be more proud, and we want to share that with you!"
The Darlington Art Center will display their Teaching Artist and Member Gallery from May 14th through June 3rd. There are events ongoing at the 4 Arts Festival from May 14th through June 11th, featuring Music, Visual Art, Dance, and Drama. This family friendly event supports young artists and the community. The Darlington Arts Center is at 977 Shavertown Road, Garnet Valley, PA. More information can be found at DarlingtonArts.org.

Victoria Rose (she/her) is an editor, writer, avid reader, self-described geek, and fan of all things creative. Her passion for words has led to her current career as a freelance editor, and she is the owner of Flickering Words, an editing service. When not wielding a red pen (or cursor), she loves reading books of all genres, playing video, board, and word games, baking ridiculous creations to show off on the internet, or enjoying the gorgeous outdoors. She is a board member of the West Chester Film Festival and part of the Thirsty Monsters, a team of streamers from around the world who fundraise for various charities supporting LGBTQIA+ and accessibility rights. She can be found online @WordsFlickering or the Brandywine Art Guide @BrandywineArtGuide.
Comments
comments