The Chadds Ford Township Residents Association — formerly The Civic Association of Chadds Ford Township — has announced its official relaunch after a two-year pandemic hiatus.
Association President Phil Wenrich said the organization is expanding its focus to include three new areas: the use of digital communications to reach the widest possible audience, a commitment to assisting township residents impacted by disasters such as floods or fires, and a renewed emphasis on promoting township businesses.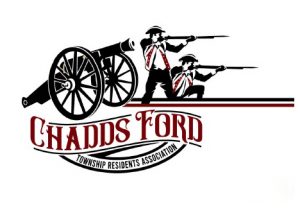 "My vision for Chadds Ford Township and the revitalization of the old Civic Association is to bring together the people and businesses of the township so they can meet and get to know their neighbors by the use of social media and a communications portal, our website, a place to go to find out all things about the township, past, present, and future," Wenrich said. "To accomplish this, we needed to rebuild from the ground up. The association needs to be fun, interactive, educational, and something people will want to be part of. We will also have live events in the future as well. I started this reorganization with a team of highly qualified people at the beginning of 2021 and hope to see it come to fruition by the end of this year."
The former Civic Association, established in 1993, had long been known for its spring and fall roadside cleanups, food drives, annual scholarship, and Citizen of the Year Award. The CFTRA also works closely with the Chadds Ford Township supervisors and township manager to support events such as the annual Recycling Day.
Digital tools developed by the reincarnated association include a new website designed as a hub of township information for both residents and visitors. In addition to background about the association, it has links to the major cultural and historical points of interest in the township and an interactive map. The new website also showcases local businesses along with winners of the annual Scholarship and Citizen of the Year Awards.
The CFTRA also hosts the Chadds Ford Pennsylvania Facebook Group which has nearly 3,000 members. The moderators and association volunteers provide useful information about local businesses and cultural activities along with real-time posts about traffic, roadwork, and weather. This page served as a vital source of information for township residents after Hurricane Ida.
The Association also will launch two new initiatives this year. Its 'Neighbors Helping Neighbors' program will assist township residents affected by disasters such as fires or floods. Its Business of the Year Award will recognize local businesses that support the community.
The Chadds Ford Township Residents Association is a volunteer, non-profit, non-partisan civic organization whose mission is to create a strong sense of community within the township, support its residents and businesses, and help retain the area's unique historical quality and rural character.  The CFTRA activities and programs are funded through memberships and donations. To join, go to the CFTRA website at www.cftra.org.

See Contributors Page https://chaddsfordlive.com/writers/
Comments
comments