History lovers dedicated a new historical marker at the Barns-Brinton house in Pennsbury Township on Thursday afternoon. The building is owned and maintained by the Chadds Ford Historical Society.
CFHS President Randell Spackman said the interpretive signage is key to "getting history right." He added that getting it right takes time.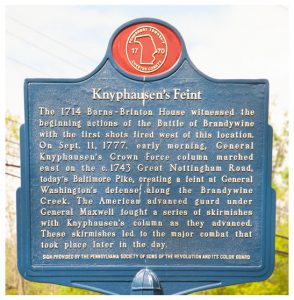 Spackman also gave a brief history lesson on the battle, saying Knyphausen's Feint at Chadds Ford set up the ultimate British victory in the Sept. 11, 1777 battle. It was the largest land battle of the War of Independence, involving 30,000 men in arms and taking place over 3,500 acres in 15 municipalities.
He went on to say the feint distracted Gen. George Washington's forces to the point that they didn't know the main British body was circling to the north and would attack in force from Birmingham Township in Chester County.
"This is our true history and that of our nation," Spackman said. "It maintains a sense of place and gives people a sense of self-worth."
Chester County Planning Commission Executive Director Brian O'Leary said the sign was the seventh erected so far. There would be another eight put up in the other municipalities where there had been fighting or troop movement.
Aaron McIntyre, supervisors' chairman in Pennsbury Township, was also on hand for the brief ceremony.
"Pennsbury Township has a strong commitment to history," McIntyre said. "It grounds us, and we have a strong interest in preserving it."
The sign was funded by the Pennsylvania Society of Sons of the Revolution and its Color Guard. Peter Adams was the spokesman for that group.
"Our Society agreed to fund this project to educate the public about the Battle of the Brandywine," Adams said. "By funding the cost of 15 historically accurate signs detailing events of the battle and distributing the signs in 15 municipalities sharing the battlefield's footprint in Delaware and Chester counties, we believe our mission is well served."
Adams thanked several people for their efforts and added, "This exciting and worthwhile endeavor is an excellent example of a successful public-private partnership. Nowhere have I found another example where two counties and their 15 municipalities have joined together in patriotic harmony united in such a successful partnership."

Rich Schwartzman has been reporting on events in the greater Chadds Ford area since September 2001 when he became the founding editor of The Chadds Ford Post. In April 2009 he became managing editor of ChaddsFordLive. He is also an award-winning photographer.
Comments
comments