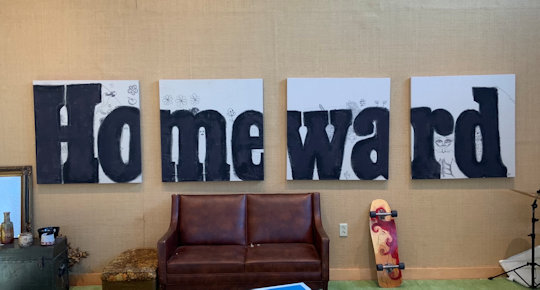 The new exhibit at the Baker Gallery at West Chester University, Homeward Arts Fest, is a comprehensive, encompassing, multi-disciplinary art experience that exceeds expectation and defies definition. Proclaiming "What is Art? We are Art!" with gusto, the show is set to raise awareness of the various forms art can take. The exhibit provides opportunities for local artists and art lovers alike to promote community engagement through the arts. Over fifty artists are included in the show, from the Brandywine Valley and the greater region.
"It is all about local things shown in their natural habitat," says Andrew Snyder, Associate Professor of Art at West Chester University and co-curator of the exhibit along with Constance Case, Associate Professor of Theatre, and Maria Urrutia, Associate Professor of Dance. Their goal is to create a participatory experience for visitors, inviting them to come in, make a cup of coffee, grab a seat, and stay a while. To that end, the curators have raided the WCU theater department's storage closets to stage the show, creating a home to welcome visitors. There is a kitchen on the far wall, a central living room, a basement complete with ping pong table and drum set, and even a patio with a clothesline. Every corner invites the visitor to sit and interact with the objects around them, whether it is a gaming console loaded with Street Fighter II or a stunning bronze sculpture on an end table—carefully, and with only your eyes when it comes to the art!
"When you say the word 'gallery,' it becomes a precious thing," Snyder says. "I want this to be accessible. Someone can come in and play ping pong, or have a jam session, or sit on the couch and do homework." It is certainly a different type of gallery experience, one sure to entice both students and visitors.
Transforming an art gallery into an entirely different space is nothing new to the Baker Gallery. In 2019, Snyder was part of the team that put on The Skate Show, a deep artistic dive into skateboard culture. Artists, students, and professors took skateboard decks, handmade by Snyder, and transformed them into one-of-a-kind pieces of art through painting, carving, and other techniques. The resulting pieces were displayed throughout the gallery, where a full-size indoor mini halfpipe ramp, built by Snyder and students, was available to test out the functional boards (with a signed waiver!). Throughout the run, professional skaters showed off their skills, various music groups played sets, and cult movies were projected on a wall. The events brought in many visitors who had never entered any art gallery before, let alone the Baker Gallery at WCU.
Homeward is sure to attract new visitors again with the wide variety of events planned. All are invited to workshops from professional artists, dance performances and poetry readings, game tournaments, and an open mic night. The grand finale of the show will be a Craft Show on April 2nd, where visitors will be able to walk through the gallery and then shop outside, where seventy artists will be selling a wide variety of arts, crafts, jewelry, and more.
The exhibit truly showcases the art that surrounds us, especially objects that are easily overlooked. Snyder points out one in particular: "I love that planter from Sam Diamond. Planters, you can get it at Home Depot, but this is handmade, unassuming. It isn't decorative in the same way a piece of art or even a vase is decorative." Taking an unusual view of art was a directive for Snyder's pottery students leading up to this show. "I had students working on planters for that reason, it is performing a function, and supporting that life. That monstera would die outside around here, it needs to live inside." The plants are thriving and vibrant in their new homes.
Pieces included in the show range widely, from oil canvases to intricate necklaces, tiny ceramic bowls to queen-size quilts. "Art is so subjective, everyone thinks they know what art is," Snyder says. "There are a lot of traditional things in this exhibit that look great in the space, but would look out of place if this wasn't a participatory exhibition." The show demonstrates the beauty of art in the everyday. "This is how our houses are too, you have a poster from the dollar store next to a painting from a friend, an Ikea mug set next to a platter from a craft show."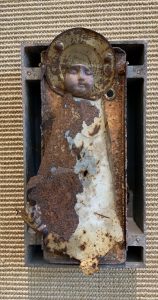 When asked to reflect on their favorite piece, Snyder can't pick. I love the Rinal Parikh's intricate painting of a bird or Kevin Korb's vase, I picked out the couch to put next to the piece because of the colors on it." He continues to scan the room. "That scarf, it is handwoven. That is what the show is about, it is a functional object that someone wears yet the craftsmanship is superb, and that is what art is—they are the things people live with. It is an intimate relationship with these functional objects over the course of time."
Snyder walks over to the scarf, a gorgeous blue-and-white piece by Grace Marks, continuing to contemplate it from all angles. "It is wrapped around you, it keeps you warm, it is beautiful in its own right but performing that function." He looks around the rest of the exhibit. "Plus, I am a sucker for craft, someone wove that. How do you even do that?" It seems that he does actually have a favorite piece. "Maybe that scarf is my favorite, now that I say it out loud. It encompasses the statement of why the show is together, in a piece."
Snyder hopes that, above all, "people walk away with a smile on their face." With something new to discover in every corner, it is hard to imagine that anyone would be able to do otherwise. "That is the schtick, I hope people will look differently at the things in their house." The exhibit truly does enforce a new point of view. "The displays are important for any exhibition. It needs to be installed properly. Art is visual, art has to be cool looking."
Snyder's final thought: "If it doesn't look cool, it isn't cool." By that standard, this exhibit is, above all, else, cool.
Homeward Arts Fest '22 is open from March 21st through April 2nd, with public hours Monday to Friday, 9 am to 3 pm. Other events are scheduled outside gallery hours. The exhibit is at the John H. Baker Gallery in the E. O. Bull Center for the Arts, located at 2 E. Rosedale Avenue, West Chester, PA. For more information, check WCUPA.edu/arts-humanities/artdesign and on Instagram @artsatwcu.

Victoria Rose (she/her) is an editor, writer, avid reader, self-described geek, and fan of all things creative. Her passion for words has led to her current career as a freelance editor, and she is the owner of Flickering Words, an editing service. When not wielding a red pen (or cursor), she loves reading books of all genres, playing video, board, and word games, baking ridiculous creations to show off on the internet, or enjoying the gorgeous outdoors. She is a board member of the West Chester Film Festival and part of the Thirsty Monsters, a team of streamers from around the world who fundraise for various charities supporting LGBTQIA+ and accessibility rights. She can be found online @WordsFlickering or the Brandywine Art Guide @BrandywineArtGuide.
Comments
comments