Pennsylvania State Police
Avondale Barracks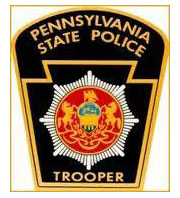 • State Police said they arrested a 34-year-old man from Nottingham for DUI in East Marlborough Township on Feb. 24. According to the report, police were conducting a welfare check and found the driver – not identified in the report – passed out in the vehicle on Pennock Road at E. Baltimore Pike at 12:51 a.m. The report also said there were drugs in his possession, and they discovered there were active arrest warrants for him from Philadelphia.
• A 54-year-old woman from Wilmington was arrested for shoplifting at the East Marlborough Walmart on Feb. 15. The suspect, who was not identified in the report, fled the store but was located in Pennsbury Township.
• Beck M. Monson, 18, of Coatesville, was cited for failing to stop at a stop sign at Clonmdell Upland Road at Thouron Road on March 11, police said. In going through the stop, Monson struck another vehicle. Police believed Monson sustained a minor injury but was not transported. The driver of the other vehicle, a 67-year-old man from Unionville, was taken to Chester County Hospital.
• Police arrested a 13-year-old boy on drug possession charges on March 8. The boy's parents found the drugs and paraphernalia in his bedroom and called the police, the report said. The boy's father took him to the police barracks for processing.
• A one-car crash led to a Landenberg man being cited for speeding in West Marlborough Township on Feb. 13. According to the police, Mario M. Little, 45, was driving south on Newark Road when he lost control of the 2017 Chevrolet Impala and crashed into a tree at 7:57 p.m. He was not wearing a seatbelt, police said and hit his head on the windshield. Avondale Fire Co.-EMS took Little to Christiana Hospital.

See Contributors Page https://chaddsfordlive.com/writers/
Comments
comments