Delaware County Health Department Director Melissa Lyon announced the official approval of the Delaware County Health Department at the County's Board of Health meeting on March 3. The county received the Certificate of Approval from the Pennsylvania Department of Health stating that the Delaware County Health Department is ready to exercise its powers and duties.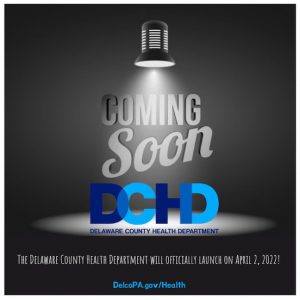 In a letter addressed to County Council, Acting Secretary of Health Keara Klinepeter noted, "Throughout the proposed establishment of this county department of health, including after submission of the Plan, your staff have regularly met with the Pennsylvania Department of Health, sought feedback, and made strides to create a successful health department. The amount of effort and work achieved is commendable and demonstrates the importance that Delaware County Council has placed on providing comprehensive public health services in Delaware County."
The County notified all municipalities on March 3, 2022, and will be able to officially act as a Health Department 30 days later- making April 2, 2022, the official operational start date for the Delaware County Health Department.
The Health Department leadership team, under the direction of Melissa Lyon, will lead a team of 53 local health experts to improve the quality of life and health outcomes for Delaware County residents.
"The Delaware County Health Department will, at the local level, address fundamental public health issues including, but not limited to communicable, infectious diseases, vaccines preventable diseases and maternal child health issues," said Melissa Lyon, Director of the Delaware County Health Department. "We will have the ability to efficiently collect data that drives positive health outcomes for residents, and fully operate in what I call the 3 P's: Prevention of illness and injury, Protection for all populations, and Promotion of healthy habits and lifestyles."
The Delaware County Health Department has already started the process to address health equity, establishing the following Divisions:
Environmental Health Division- responsible for the prevention of human injury and illness, the promotion of a healthy environment, and protecting the community from environmental hazards. The department prevents, minimizes, and contains adverse health events and conditions resulting from communicable diseases like food, water, vector-borne outbreaks, chronic disease, environmental hazards, injuries, and health disparities.
Personal Health Division- to promote healthy behaviors and habits that prevent chronic illness and the spread of infectious diseases and ensure access to clinical services and programs to all residents of Delaware County.
Population Health Division- to serve as the chief health strategist and build cross-sector partnerships that foster collaboration, create funding opportunities, and promote collective action with community partners, agencies, and healthcare institutions to ensure health equity across all communities.
The Health Department Team's presentation to the community can be found here.
For more information about the Delaware County Health Department please visit https://delcopa.gov/health.

Comments
comments