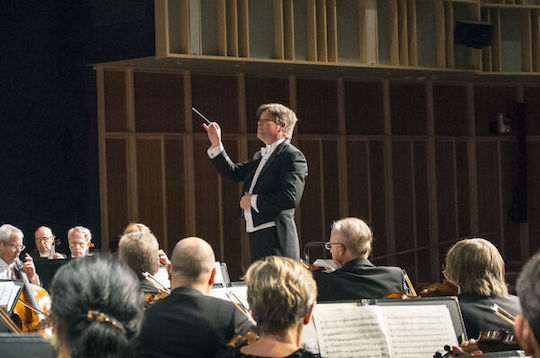 For the first time in more than two years, the Kennett Symphony is fulfilling its raison d'être by performing live and in person on Jan. 30. The performance is scheduled for 3 p.m. at Unionville High School.
After two years of being shut down because of COVID, the orchestra is coming out of the gate this Sunday with Aaron Copeland's Fanfare for the Common Man, Joan Tower's contemporary Fanfare for the Uncommon Woman, Camille Saint Saens' Piano Concerto No.2, and Beethoven's Symphony No. 3, Eroica.
Music Director Michael Hall admitted that this week's rehearsal, the orchestra's first time together since their December 2019 concert, was a little uneasy but worth it, with the group members getting to do what they love doing. While Sunday's performance will still show signs of COVID caution — attendees must show proof of vaccination and wear masks — the goal is the same as it always has been.
"Let's get back on stage and play," Hall said.
Hall, a native of Toronto, Ontario, is entering his eighth year as Kennett's music director. As is easily imagined, he's passionate about his work and music in general. And he's not only looking ahead to this weekend but for a full season of seven concerts, including one under the stars in June and three other special concerts.
One of those is a "Reimagined Symphony" in March. Hall said those reimagined concerts are designed for people who don't really know about classical music but are interested in learning a little bit about it.
"I hear people say concerts are too long, too expensive, only for old people, not for me. So, we want to make a concert series where we can break down those barriers," he said.
So, on March 19, there will be a concert about Igor Stravinsky at the Mendenhall Inn where Hall will use video to talk about the composer and play one movement from a Stravinsky symphony.
It's something the symphony has done before with other composers, and he said it's a way for people to learn about music and "kind of a way in for listening to music…by getting to know how it's put together. It gives you a better understanding of it and, therefore a love of it."
He said that good music taps into our emotions through the "engagement of tones, dynamics ‑— loud and soft — beautiful melodies and harmonies. To me, it has the gamut of what emotions can draw out of you."
And those emotions can range from beautiful and tranquil, to soulful and solemn, sad, and bittersweet.
"The reason we listen to this music and play it now is that it taps into people's feelings. It has the ability to feel things you can't put your finger on, can't put into words, a certain feeling of nostalgia or something very sad, or of hope, absolutely."
Hall is eager for the symphony to play before live audiences again, to feel the shared energy that flows from performer to audience and back again. And that holds even if one doesn't "know" classical music.
"You don't have to know anything about classical music, just come and listen because it's so beautiful. Just come and listen to this wonderful music. And in a live concert, you see these musicians, these people who are giving their all, who are all incredibly proficient with their instruments. And there are 60 of them, and they're all at their top, and they're all contributing in their own way, which is something very exciting," Hall said.
This season's schedule and tickets are available here. Admission for adults, $58, $50, $35 in advance; $63, $55, $40 day of concert; and $10 for students up to age 18. There is a $6 order fee per order.
Again, COVID vaccinations are required as are masks.

Rich Schwartzman has been reporting on events in the greater Chadds Ford area since September 2001 when he became the founding editor of The Chadds Ford Post. In April 2009 he became managing editor of ChaddsFordLive. He is also an award-winning photographer.
Comments
comments