Delaware County residents and visitors can enjoy the region's re-emergence of the arts with a double-header of entertainment on Saturday, Nov. 6 at Darlington Arts Center. The fun starts at 6:30 p.m. with a free opening night reception and exhibition of work from established and emerging visual artists representing the nonprofit art consortium ART 504 Creative Collective.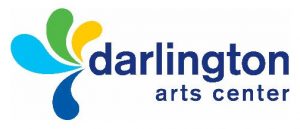 Guests can meet Philadelphia-area artists and connect with fellow art enthusiasts at the inspiring opening reception while enjoying a specially curated exhibition featuring pieces in a variety of media and styles. The exhibition runs throughout November and all pieces displayed will be available for purchase. RSVP for the free reception is requested via email to programs@darlingtonarts.org.
At 8 p.m., things heat up with the return of the Coffee House Concert featuring popular area indie-folk-bluegrass duo Who? What? When? Why? & Werewolves? (a.k.a. 6W). Enjoy an evening of music, storytelling, and self-deprecating humor with 6W members Matt Orlando and Andrew Fullerton. Coffee, tea, and dessert are included in the ticket price ($20/$40 for a four-pack/$10 for members), and guests may bring snacks or their favorite beverage.
The concert takes place in the Ann Anthony Community Space. New this year is an option to view the concert online ($10 at https://www.eventbrite.com/e/193756199007) and turn your home into your own private coffee house. The pre-show begins at 7:30 p.m. For ticket information and details, call 610-358-3632.
"Darlington is thrilled to continue providing Every Art for Everyone as we celebrate the return of ART 504 to our gallery walls and 6W to our coffee house stage," said Eric Thompson, executive director at Darlington Arts Center. "We invite our community to participate in-person or online, as they feel comfortable, and reconnect to the arts."
Both events take place at Darlington Arts Center, 977 Shavertown Road, Garnet Valley.

Comments
comments