• Longwood Gardens' Chrysanthemum Festival continues through Nov. 14. Big, bold colors and thousands of carefully nurtured and trained chrysanthemums abound during this imaginative display serving as the largest and oldest of its kind in North America. Timed admission tickets are required. For tickets, go here.
• Concord Township's Harvest Festival is this Saturday, Oct. 23, at the township Park & Rec Building, 30 Bethel Road. The Baked Goods Contest drop-off is from 9-11 a.m., the Pet Costume Contest at noon and the Children's Costume Parade at 1:30 p.m.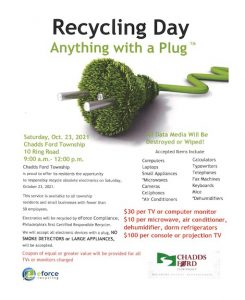 • It's Recycling Day in Chadds Ford this Saturday, Oct. 23. Residents will have the chance to recycle outdated electronic equipment. The event runs from 9 a.m. to noon at the township building, 10 Ring Road. Costs are involved for recycling some items.
• Delaware County Community College will hold a fall open house from 6 to 8 p.m., Thursday, Oct. 28 in the lobby of the College's STEM Center at the Marple Campus, 901 South Media Line Road in Media. Prospective students and their parents will be able to meet faculty members and staff, explore nearly 80 programs of study, learn how to earn college credits while in high school through the High School Dual Enrollment program, get a guided tour of the campus, and more. To register for the open house, visit dccc.edu/openhouse or call 610-723-4000. Face masks are required in all indoor college facilities regardless of vaccination status.
• The USBA is offering loans to those affected by Hurricane Ida. To be considered for all forms of disaster assistance, applicants should register online at DisasterAssistance.gov or download the FEMA mobile app. If online or mobile access is unavailable, applicants should call the FEMA toll-free helpline at 800-621-3362. Those who use 711-Relay or Video Relay Services should call 800-621-3362. Businesses and individuals may also obtain information and loan applications by calling the SBA's Customer Service Center at 1-800-659-2955 (1-800-877-8339 for the deaf and hard-of-hearing), or by emailing DisasterCustomerService@sba.gov. The center is open 7 days a week from 8 a.m.-8 p.m. A two-minute video on how to apply can be found here.

See Contributors Page https://chaddsfordlive.com/writers/
Comments
comments